Apple-Tea-Ni Mocktail
Enjoy this classically-inspired Apple-Tea-Ni mocktail, made from Ahmad Tea Apple Refresh black tea with a sweet twist. Fun to make and delicious to drink, this alcohol-free beverage is perfect to try at any occasion.
Apple-Tea-Ni Mocktail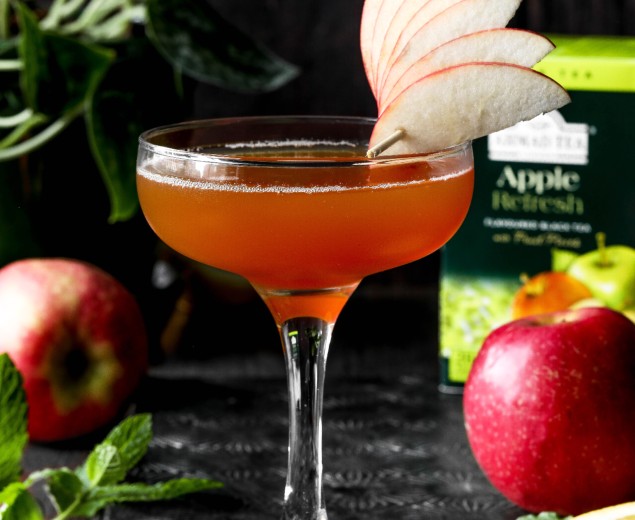 Difficulty
Easy
Time to Make
15 minutes
Blend
Apple Refresh
FEATURED TEA
Apple Refresh
The bewitching flavour of juicy apples complements our superb quality black tea in this comforting blend.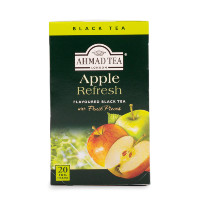 INGREDIENTS
75ml Apple Refresh Tea, made from 2 teabags, brewed and cooled
60ml Mediterranean-style tonic water
20ml Maple syrup
15ml Lemon juice (freshly squeezed)
1 apple to garnish
Method
For the apple fan
Thinly slice an apple into 2-4 pieces
Cut the  slices in half
Place the top halves of the slices on top of one another to form a tower
Pierce the slices in the corner with a cocktail stick, at a slight diagonal angle
Fan slices out gently
For the Apple-Tea-Ni
Chill a martini glass in the freezer or fill with ice
Measure all the ingredients into a cocktail shaker
Fill the other half of the shaker with ice
Connect the 2 parts of the shaker, make sure to create a seal
Start shaking slowly to allow the shaker to suction itself together
Shake vigorously for 45 seconds
Double strain into the glass
Garnish with an apple fan