Classic Victoria Sponge Cake
Who better to share a classic Victoria Sponge recipe than the @afternoontealondon, the Afternoon Tea Expert? And what better to enjoy it with than a cosy cup of Wild Strawberry infusion? Try Eileen's recipe and share your cake photos on @ahmadtea.
Classic Victoria Sponge Cake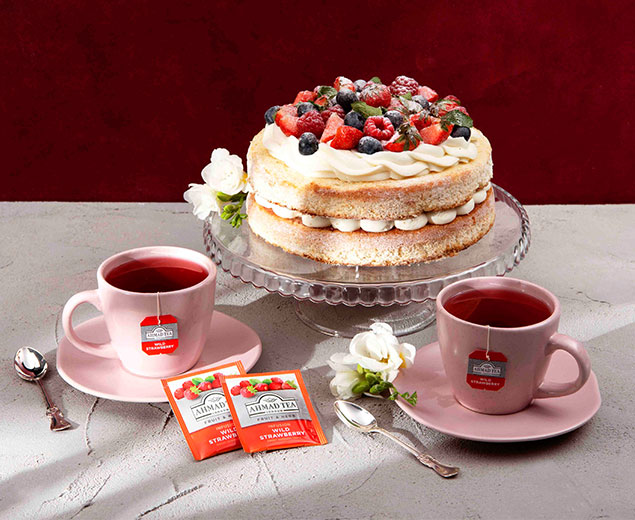 Difficulty
Moderate
Time to Make
1 hour
Blend
Wild Strawberry
FEATURED TEA
Wild Strawberry Infusion - Teabags
The base of this excellent tea is the sweet sunny taste of wild strawberries harvested from fresh fields at peak ripeness for a magnificent brew.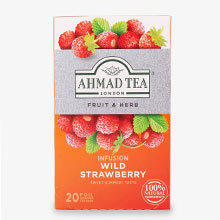 INGREDIENTS
For the cake:
200g caster sugar
200g butter (take out of the fridge one hour before baking)
4 eggs, beaten
200g self-raising flour
1 tsp baking powder
For the filling
100g butter, softened
140g icing sugar, sifted
icing sugar, to decorate
Jam – traditionally raspberry jam would have been used but you can use whichever jam you prefer
Method for the Cake
Pre-heat oven to 190 degrees – it's very important to start with a warm oven and make sure the cake is placed in the centre.
Next, you will want to grease your baking tins. You can either use two tins or if you only have one, then you will have to allow the cake to cook and cut it in half afterwards.
In a bowl, beat 200g caster sugar and 200g softened butter together until soft and light.
Gradually add your beaten eggs.
Sift in the flour and fold gradually until you have a slow dripping consistency. Once you have achieved this then you can add it to the greased tins.
Bake for 18 minutes or until the cake is firm to touch. Once it is ready take it out of the oven and allow to cool on a rack.
Method for the filling
Beat the 100g softened butter until you have a lovely cream mixture.
Slowly beat in 140g sifted icing sugar.
Add your filling to one of the sponges and top with your desired jam.
Put the second sponge on top and finish the whole cake off with a dusting of icing sugar, with added fruit optional.