All about the Tea Taster – revealing the people and processes behind our favourite blends
It's thought that around 3.7 billion cups of tea are consumed daily and that, after water, it is the world's most popular drink. But it's fair to say that not a lot is widely known about how tea goes from crop-to-cup and becomes the great tasting beverage we know and love. In this journal we'll reveal some of the unsung heroes behind our favourite brews – the Tea Tasters. We'll explore what it takes to be a Tea Taster, how they learn their craft and the work they do to ensure that you have a delicious tasting cup of tea, every time.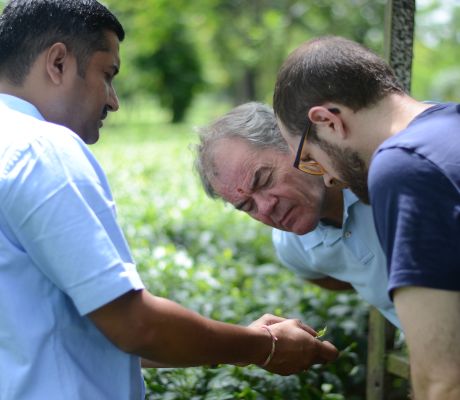 Firstly, what is a Tea Taster?
It's been described as the best job ever. Ahmad Tea Tasters travel the world, visiting tea gardens in places such as India, Sri Lanka, Kenya and China to discover the finest teas. When at home though, they sample up to 500 cups of tea a day, grading and blending to create the best teas. Being a Tea Taster has similarities to being a wine sommelier or a whisky blender. It's the art of knowing everything about your crop and understanding how the land, weather and cultivation techniques will impact the flavour.
Tea Tasters spend hours sipping and expertly blending a whole range of teas, from the everyday cuppa you'll find in a supermarket to a premium quality loose leaf you'll buy in a tea emporium.
Dominic Marriott, Senior Tea Taster at Ahmad Tea shared his thoughts on his profession:
The same tea grown in different locations and in different weather conditions can taste completely different. Our job is to create consistent tasting teas all year round. To do that we blend different teas from different locations against a gold standard for each of our blends. Sometimes there's not enough rain in one area and too much rain in another, so we'll need to adjust the composition of each blend to ensure it creates a consistently great tasting tea.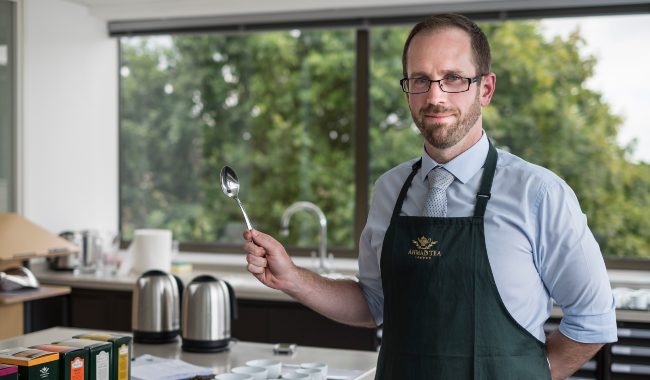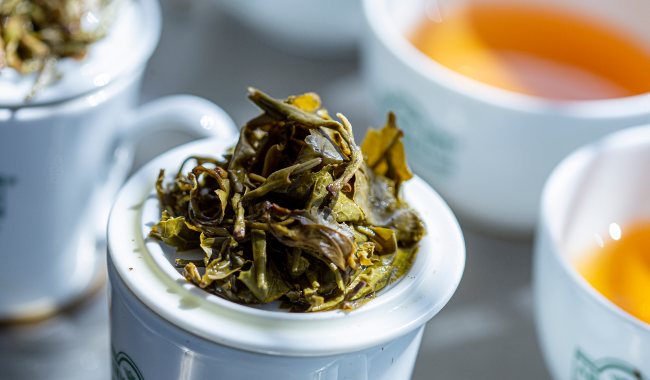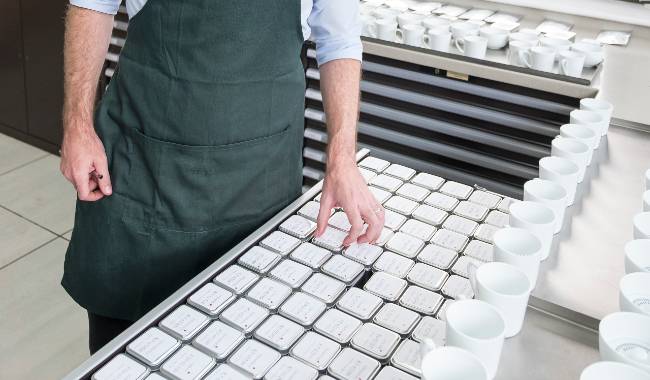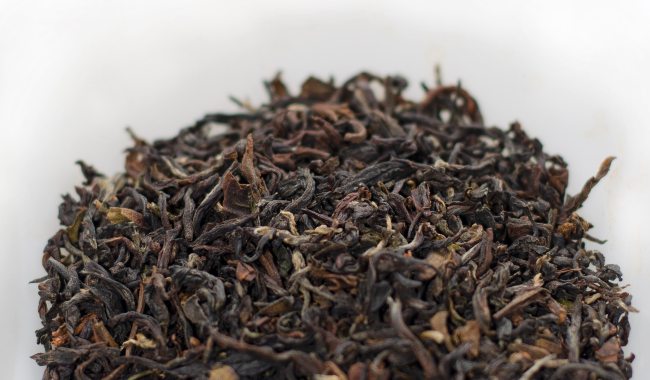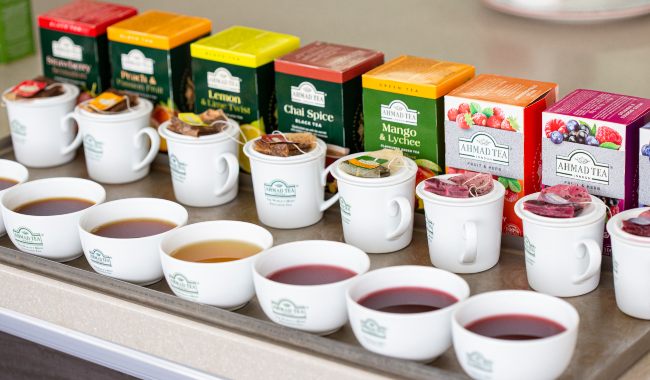 What happens on a typical day?
Tea Tasters work within blending rooms or tea rooms which are sterile environments as it is important that there is no contamination. Overnight, couriers deliver hundreds of samples from the tea gardens or auctions to be tasted and graded. Tea auctions happen once a week and the quality and prices vary depending on the local weather conditions and any local currency fluctuations.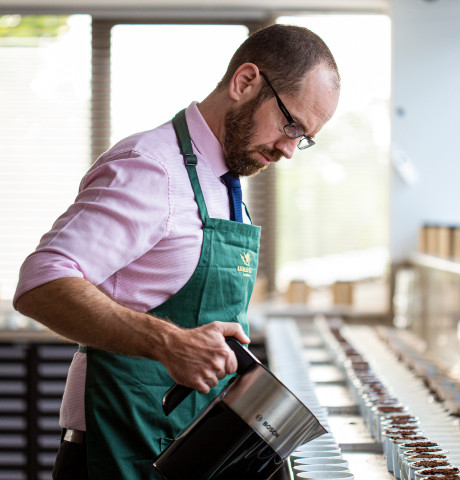 Each day, the Tea Room is set up so that the tasters can sample up to 500 cups. They taste at speed, slurping the liquid in using a spoon and sucking it into the back of their mouth, capturing plenty of air to engage their sense of smell and therefore taste the tea fully. The tea is then spat into a wheeled spittoon and the then tea is given a rating. Often several Tea Tasters will sample the same blend so that they can independently compare their thoughts. Some of the teas may be samples from auctions which have not yet happened, so the Tea Tasters will have to compare notes and let their brokers know how much they are prepared to bid for a particular tea. Other teas may have already been bought but need to be blended to suit the particular taste profile or preferences of a country or market.
Ahmad Tea's Tea Room holds around 175,000 tea samples which are updated regularly. Every sample has a reference which details the origin, the processing and the quality of the tea. Dominic continued:
Ahmad Tea has Tea Tasters based in the UK, UAE and Sri Lanka and our teas are tasted multiple times to ensure the quality is upheld. We sell tea to over 80 countries, and each has its own individual taste trends. Our job is to expertly blend the tea to meet the expectations of each country. What we constantly have to bear in mind is how the tea is going to be prepared and drunk. We don't just blend for the taste, we also have to consider things like leaf size and density – how well the leaves will blend together and for loose teas, how they will fit into the final packaging.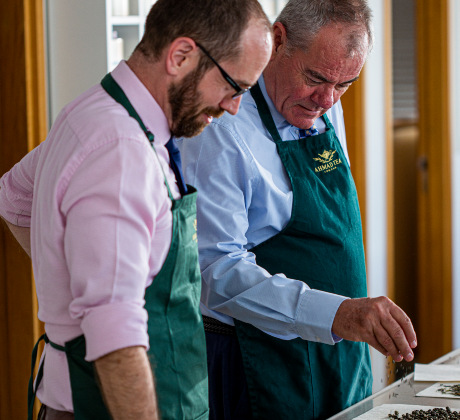 A career for life
When a Tea Taster starts their career, they'll spend their time tasting and memorising different teas from different territories. They'll also have to spend their time understanding the economic, political and climate pressures felt by each tea producing country and immerse themselves in the whole crop-to cup journey. Tea Tasters are highly skilled and, once trained, each is expected to be able to identify the country and the region the tea has been grown in and the process the tea has gone through.
They'll also need a keen eye for numbers to analyse fluctuations in the prices and have a solid understanding of geography and the impact of the changing weather conditions on the tea.
Tea Tasters need to have great interpersonal skills as they need to interact with producers globally as well as work with every department within a tea business. They are expected to create and share presentations on new blending techniques, economic or social pressures and new product developments.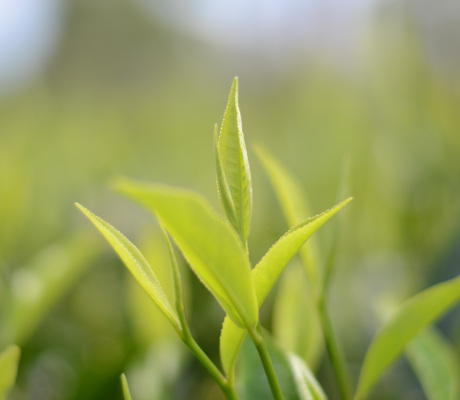 A Tea Taster's most prized possession - the tea plant
When tea plants are planted, it can take five years for it to grow to maturity and be ready for plucking. Most tea plants have a lifespan of 50 -60 years but some tea plants can still be harvested up until 100 years old. Tea Tasters often visit the gardens to check how the tea plants are being tended and that farming and production is done sustainably.
We hope we've given you a good an insight into being a Tea Taster and how much we treasure the art of making fine tea. Nothing leaves the Ahmad Tea tasting room until we are sure it is an extraordinary cup of tea, destined to inspire tea lovers everywhere.