Give a little love with the Christmas Collection 2022…
Ahmad Tea are delighted to unveil our new Christmas gift selection for 2022. This year there are tea treats galore for everyone to enjoy. We've launched a beautifully designed Tea Advent calendar which is filled with delicious teas to indulge in during the countdown to Christmas. We've also launched loose leaf tea baubles in collaboration with the Royal Botanic Gardens, Kew to add some glamour to your tree.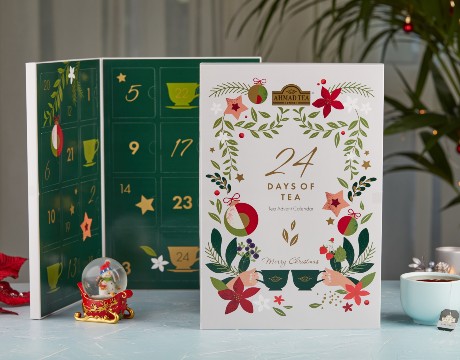 24 days of Tea
Explore the wonderful world of Ahmad Tea by discovering a different blend behind each door on your countdown to Christmas. There are classic favourites, enchanting new blends and delightful festive brews.
Sit back, unwind and enjoy a lively cup of tea while you relish the festive season
Advent Calendar
Beyond the Leaf Loose Tea
An exciting Great Taste Award winning collection from two iconic British brands, balancing Ahmad Tea's beautifully blended teas with the natural beauty and heritage of Royal Botanical Gardens, Kew. Four classic blends (Majestic Breakfast, Splendid Ceylon, Garden Afternoon and Elegant Earl Grey) are available in 100g loose leaf tea caddies – the perfect gift for tea lovers.
Beyond the Leaf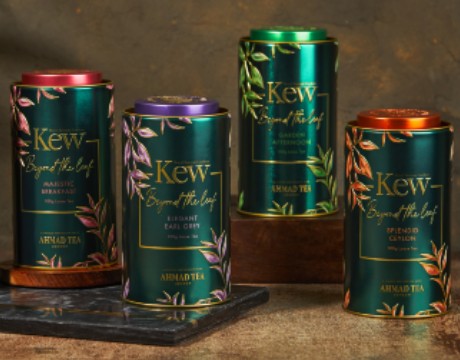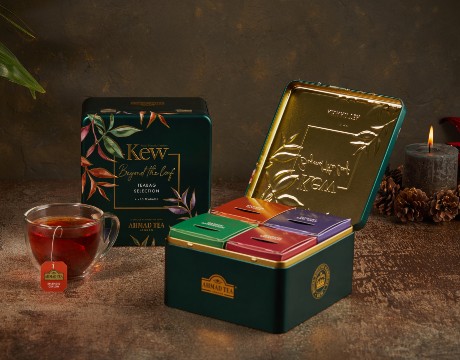 Beyond the Leaf Teabag Selection
Can't choose between our 4 delicious blends? Then why not try our teabag selection which has Majestic Breakfast, Splendid Ceylon, Elegant Earl Grey and Garden Afternoon in convenient teabag format?
Teabag Selection
Beyond the Leaf Bauble
NEW! for Christmas 2022! The Great Taste Award winning loose leaf teas from Ahmad Tea are now available in a stylish Christmas bauble! Choose from Majestic Breakfast, Splendid Ceylon, and Elegant Earl Grey.
Beyond the Leaf Baubles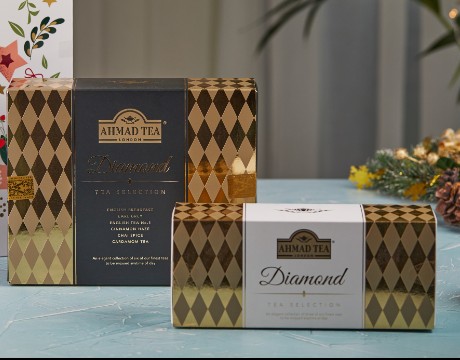 Diamond Teabag Selections
A deluxe, gold selection carton featuring some of Ahmad Tea's bestselling classic blends including English Breakfast, Chai Spice, Cinnamon Haze (3 x 10 selection box) plus Earl Grey, English Tea No.1, and Cardamom Tea (6 x 10 teabag selection)
Diamond Selections
All our Christmas gifts are available via uk.ahmadtea.com, Amazon and all good retailers.