Ahmad Tea – Employee Spotlight on Dominic Marriott, Senior Tea Taster
Dominic Marriott, is Ahmad Tea's Senior Tea Taster and holds one of the most important roles in the company. As part of the tea department team, Dominic is responsible for purchasing the right amount of tea every week, ensuring that every blend is to a consistently high standard and he also helps to create new products. He is also responsible for quality control and drinks up to 500 cups of tea every single day. We were delighted to spend some time discussing how the tea industry is evolving and also to find out what tea he sneaks home to put in his tea cupboard.
Dominic, tell us what you do at Ahmad Tea:
I'm one of Ahmad Tea's tea tasting team which means that I taste and grade up to 500 cups of tea a day to ensure that every cup of Ahmad Tea is at a consistently high standard. I'm also responsible for buying the tea for the business either direct from tea gardens or via weekly auctions. As part of my job, I need to keep a keen eye on weather patterns and rainfall within the tea gardens which will impact the taste of the tea leaves. We receive samples every week from the tea growing regions and myself and my team grade and value the tea and then will negotiate an appropriate price. I'm also responsible for creating new blends and maintaining quality control. We have tea tasters in other locations around the world, therefore I also help train the team and we compare blends created in different locations to ensure that each blend we sell, tastes consistently the same.
What do you love about your job?
I love getting to taste the different teas throughout the year. We are currently coming to the end of the North Indian season and the Chinese season is just about to reach peak quality. I feel very lucky that I get to taste and experience the best teas from across the world. The best teas, in my opinion, are the freshest teas, when you taste them you are transported to the tea gardens. I'm also very lucky that Ahmad Tea has developed long term relationships with many of the tea gardens so I enjoy catching up with people in the industry and sharing in their successes and the highs and lows of life. Four weeks ago, I really enjoyed a trip to India to meet some of our suppliers. We went to Kolkata to meet some acquaintances and then travelled up to Assam to stay in one of the tea gardens. Tasting tea which had just been picked was just magical.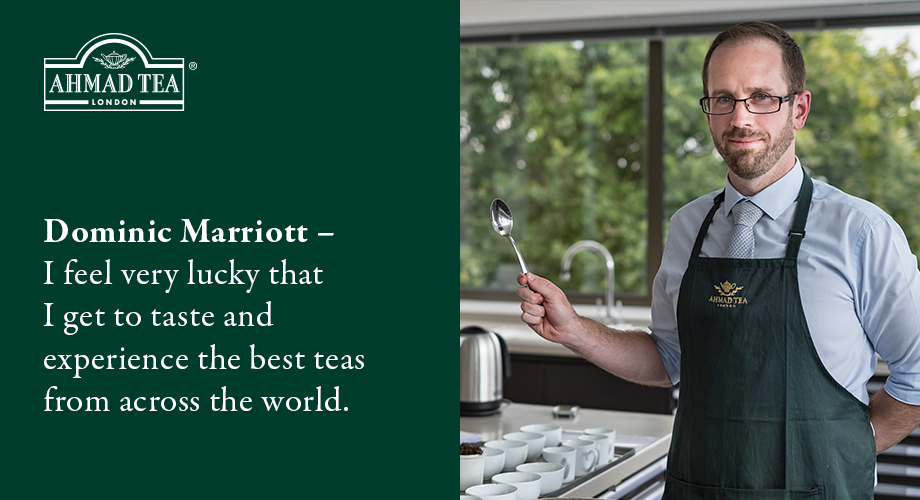 How is the tea industry changing?
There's much more emphasis on ethical sourcing and sustainable policies, in addition to the quality of the product. Ahmad Tea has always prided itself on buying from high quality tea gardens, however now consumers are educating themselves on supply chains. Consumers are increasingly interested in buying from tea brands which provide high quality blends as well as brands who are working with tea gardens who provide housing, education and healthcare to their workers.
The production of tea has changed very little over the last couple of years, however life in the tea gardens is changing rapidly. In certain regions, such as Kenya, tea has been traditionally hand-picked and now we are seeing more tea plucking being done by machines. Tea plucking machines have been used for years in tea gardens in Japan and Taiwan but for the tea industry in Kenya, this is a big change.
The tea industry is also hugely impacted by changes to the climate. The weather is becoming more unpredictable and extreme and we are now unable to rely on "normal" weather patterns that we've become accustomed to over the years.
What are the highlights of your job?
Most of my time at work is spent in the tea room so I love going to some of the consumer events and seeing people enjoying an excellent cup of tea. I'm lucky that lots of people are fascinated by my job so I enjoy sharing tips about brewing the best cup of tea and how to spot a good quality blend.
What are the biggest challenges of your job?
Even though my job is a tea taster, I'm responsible for the supply of tea. It's very difficult to accurately forecast how much tea we need each week and ensure it is in the right location. If we buy too little, we run the risk of not being able to supply our customers. We also try not to stock pile tea as we want it to be as fresh as possible.
This is a tough question for you, I'm sure, but what's your favourite tea?
It's impossible for me to have a favourite tea but I love drinking fresh tea, straight from the gardens. So, I'll simply say that my favourite tea is whatever is in season.