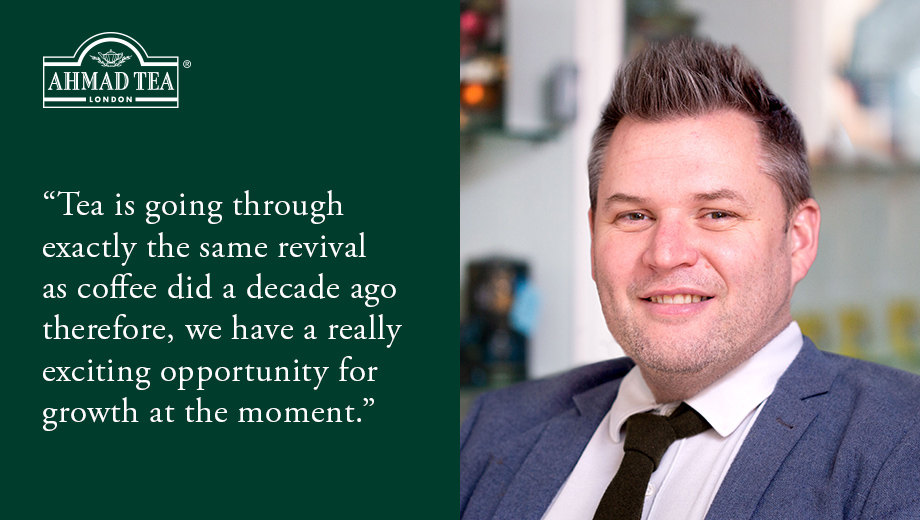 This month we caught up with Gary Winslade, Ahmad Tea's UK Sales Manager to understand more about the brand's plans for the UK market.
Firstly, why did you join Ahmad Tea?
I'm a people person and problem solver at heart. I've always worked in sales as ultimately, I like making a difference for consumers and companies. I've worked in variety of companies selling everything from luxury watches, beer, buffalo mozzarella and I previously helped to turn around a tea company based in Wimbledon. When I first met the team at Ahmad Tea, the first thing I noticed was their shared passion for high quality tea. Ahmad Tea's purpose is to 'inspire the love of tea' and it's great to work for a company who places so much focus, investment and time into the quality of the product.
Was there anything different about Ahmad Tea which helped attract you to the brand?
I could reel off all the awards the team has won for the taste and quality and all the investment they've put into making the production side of the business as green as possible. However, the thing I love about the brand is all the charity projects we fund. Ahmad Tea is a brand which really cares and each year a great deal of funding goes to life changing projects around the world. It's amazing how much goodness there is in a simple cup of tea.
The UK tea market is notoriously competitive, what's the opportunity for Ahmad Tea?
Ahmad Tea really is one of the UK's best kept secrets! Our huge range is sold to over 90 countries and we are already well known for our commitment to quality. This year we won 18 stars at the Great Taste Awards including a highly coveted three-star award only given to 1% of 14,000 entrants. We don't just say that we're focused on quality, we've got the independent awards to back it up too! As the UK is a nation of tea lovers with a discerning palate, we're excited about introducing our range of high-quality teas to even more people in the UK.
What's the opportunity in the UK now?
Tea is experiencing a revival in the UK. The nation's taste buds are changing and people are opting for higher quality blends. Tea is going through exactly the same revival as coffee did a decade ago therefore, we have a really exciting opportunity for growth at the moment. At Ahmad Tea we hide our light under a bushel but as a company we go to incredible lengths to create the best tasting tea and we want to share our love of tea with as many people as possible. I think UK consumers' taste buds are changing and people are becoming more knowledgeable about the origins of tea and what processing methods produce different tasting teas. It's a reignited and very exciting category.
What blends are the most popular in the UK and what does that tell you about your consumer?
The reality is that our tea range is as diverse as Britain itself so we've got a tea for everyone. We've got fantastic classic blends such as English Breakfast or Earl Grey spanning to flavour packed herbal infusions. We really have delicious drink for every taste bud.
How do you see the brand evolving?
One of our main focuses is to improve the sustainability of our brand. We've recently won a gold award by EcoVadis at our main production facilities which is run, in part, by solar energy. We are not going to rest on our laurels though and we are committed to having a positive impact on the planet and aim to achieve 100% green packaging by 2025.
What are you most excited about in the next 12 months?
For me, I know we've got a treasure trove of award-winning products and a fantastic line-up of new products which are ready to launch. Therefore, I'm most looking forward to seeing people's reaction when they try our products for the first time. For me, I've got the best job in the industry!