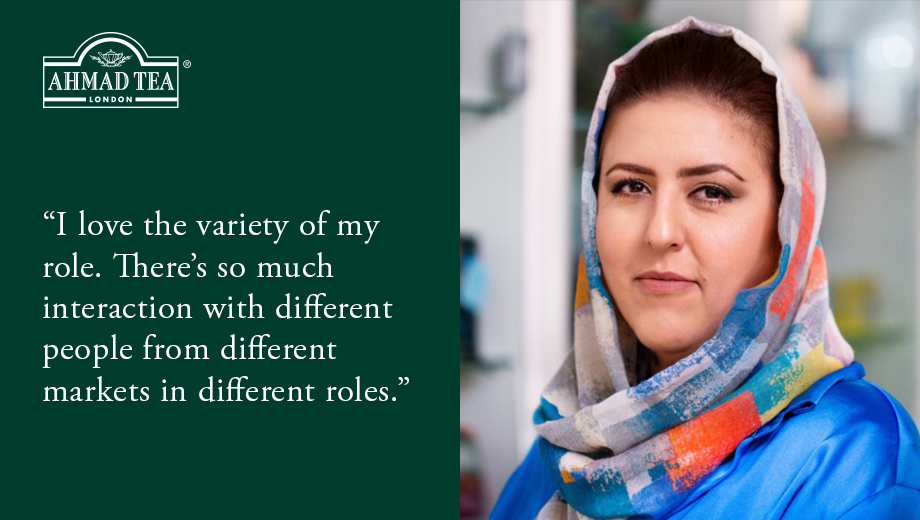 Ahmad Tea has recently promoted Hamideh Sarvmeily to Marketing Operations Manager. Hamideh first joined the tea business in 2012 and has worked in various positions in the marketing and product development team. We caught up with her over a cup of tea to get her views on what it is like to work at Ahmad Tea and her thoughts on how the industry is changing.
Hamideh, tell us about your new job!
My new role covers innovations and new products at Ahmad Tea. I'm responsible for the project management of new products from pre-concept to launch. This means that I work closely with the graphics team and the brand research team.
What are the biggest challenges in your role?
Ahmad Tea is now available in over 90 different markets and we've got a range of over 300 products. My challenge is to ensure that all our products are attractive and relevant to consumers in different countries and cultures. At Ahmad Tea we invest heavily into country specific research on consumer trends. My role is to find the same consistent trends within so many different markets and then translate these into new products. Any new innovations need to take into account differences in culture and religious beliefs in all our countries. It's also important for us to put sustainability at the heart of our packaging development as well as keeping in mind the end price point. It's a real balancing act but that's what makes my role so diverse and interesting.
What trends are you seeing in the tea industry?
We're definitely seeing a shift towards premiumisation in the industry. Consumers are choosing quality over quantity. Consumers are also becoming more discerning on choosing brands with a strong focus on sustainability.
We're also seeing an impact on the tea industry since Covid-19. Our data tells a story of people using tea as an opportunity to come together and share a moment together. We're seeing a trend of consumers using tea as an opportunity to rest and have a moment of calm in their busy and hectic lives. Tea is now seen as a gift to yourself or an opportunity to cheer someone up.
What's your favourite thing about working at Ahmad Tea?
I love the variety of my role. There's so much interaction with different people from different markets in different roles: designers, sales people, production and packaging experts. I also love the opportunity to be creative and to think innovatively about new collaborations, new packaging opportunities and new gifts.
If someone was interested in working in your team, what skills would they need? 
At Ahmad Tea, we're looking for people who are open to thinking differently. There are so many different elements to our team, it's important to have a strong focus on the global needs of the business while also knowing the needs of each and every one of our markets. The interesting part is melding these two together. And that needs patience, diplomacy, mediation skills, stakeholder management experience, collaboration skills and always a large smile!
What's your favourite tea?
I'm such a tea fan, I have two favourites: Assam and Chai. I always drink loose leaf tea as I have been brewing loose leaf tea since I was 6. It's part of my culture.
How would you describe working at Ahmad Tea to your friends and family?
Ahmad Tea is a family business that cares. Its mission is to create the best tea and its vision is to give back to people that need it the most. Working for a company which is such a positive force for good is really important for me.