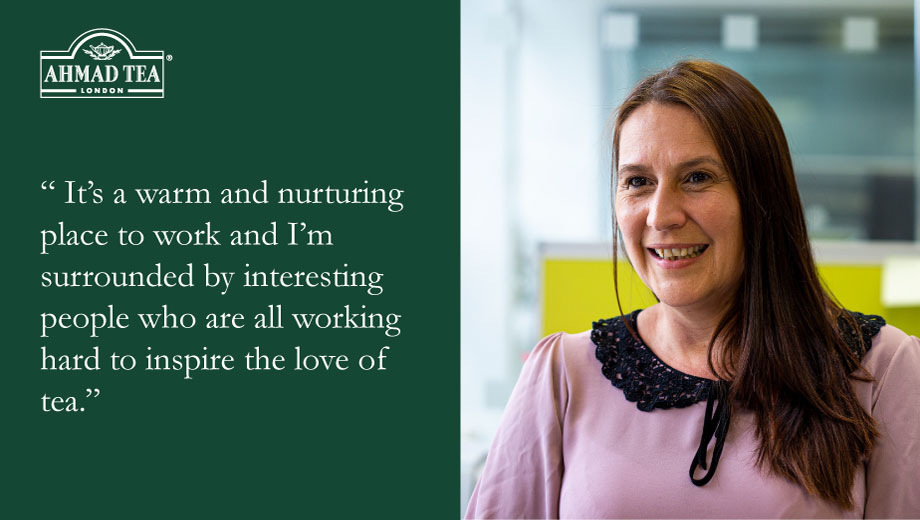 How the Global Head of Marketing at Ahmad Tea shares our message across 90 different countries
Tracey Wakelin leads the global marketing team at Ahmad Tea and is based in the company's offices in Southampton. She is responsible for driving the marketing agenda. This encompasses evaluating, developing and implementing the marketing strategy; planning, co-ordinating and communicating our marketing efforts, providing guidance and direction to all of our markets.
We caught up with her over a cup of tea to find out about her role and her priorities for 2023.
What's the biggest challenge in your role?
Over the last few years in the tea industry, we've seen a real shift to high quality tea from consumers and Ahmad Tea has benefited from this appetite for premium products. Our business has grown significantly across the globe and our challenge is to support different markets who need different levels of assistance. Everything Ahmad Tea does is centred around its mission: to inspire the love of tea. To achieve this, we create and communicate toolkits and content which will resonate with a global audience. We also mentor and collaborate with individual markets to offer marketing support to help them get the most amount of impact from every campaign.
What do you love about your role?
I'm a people person and I love working with such a big team of tea lovers from so many different cultures, with one common goal: to grow our brand. I also love working with our own amazing team at Ahmad Tea HQ, from supporting the sales team, to liaising with production or collaborating with the tea department, there is always something new and interesting to get stuck into.
I also love the fact that no two days are the same and I know for sure whatever I have planned for the day is likely to change. We work in a fast paced environment with new opportunities and challenges at every turn. It's definitely an exciting place to work.
Talk us through a typical day for you?
I always start my day with a hot cup of English Breakfast, honestly I do, and I'm not just saying that because of where I work! I can't say I ever really have a 'typical day', but generally I might start the day on zoom, either with the markets or agencies, sometimes even teams from other parts of the business. It may be advising markets on their latest marketing strategies, or reviewing brand health presentations, or even feeding back on the latest campaign storyboards.  Afternoons are often taken up by internal meetings, liaising with Key Account Managers on support for their markets, brainstorming with the NPD team, giving updates to the key stakeholders or receiving them from my team. Whatever I am doing, due to us being present in so many markets, my time is also often taken up by unexpected meetings, calls or requests for support. I am also fortunate to be able to visit many of our markets which provides valuable experience and insights.
What are the opportunities for Ahmad Tea?
Since the COVID pandemic, people are becoming even more aware of what they consume, and they are therefore focussing on food and drink products which are higher quality. Consumers are also turning towards authentic brands and its these two trends that offer Ahmad Tea a great opportunity to drive growth. Across all of our research over the years, we have made a consistent observation that once a tea drinker tries a better quality tea, more often than not, they will trade up permanently. The same is almost always true with our tea – to try us is to love us!
How would you describe working at Ahmad Tea?
Ahmad Tea is run as a family business and even though I'm not part of the family, I feel as if I am. It's a warm and nurturing place to work and I'm surrounded by interesting people who are all working hard to inspire the love of tea. I wake up happy to go to work and what could be better than that?
What's coming up for you in 2023?
One thing that I feel very passionately about is the sustainability of our products. One of my goals this year is to raise the awareness of our impact on the environment. For example, how climate change is hitting the countries where tea is grown. I want people to wake up and realise that we need to take our impact on the environment seriously and the time to act is now.
Another of my priorities is to share our knowledge of the wonderful world of extraordinary tea. Everyone deserves to drink the best possible cup of tea.
What's your favourite tea?
Our English Breakfast, it's dependable, reliable and delicious!