Ahmad Tea has a global reputation for its tea blending and one person who has witnessed the company grow into the global juggernaut it is today is Neil Pavely who runs our tea room. Neil is one of our longest standing members of staff.  He joined the business in 2001 as a tea blender and subsequently was offered the opportunity to run the tea room, a position which he has fulfilled since 2003. In this post we'll find out more about tea blending and how many cups of tea Neil and his team make every single day.
What does running the tea room involve?
The tea room is the beating heart of Ahmad Tea. The success of our business depends on what happens within the tea room. Every day tea arrives from tea gardens from all over the world and we need to taste it promptly and feedback our comments to enable us to buy the correct quantities of the best tasting teas. Tea growth is obviously weather dependent so we have to keep a keen eye on rainfall in the locations we think will be producing the best quality. Depending on the time of the year, myself and my team make between 320-500 cups of tea a day for the tea tasters to feedback on. It's my job to make sure that all the tea is served at the same temperature, at the same strength and it is all presented in the same way. Consistency is key. 
What's the most challenging part of your job?
We're a global organisation undertaking time sensitive tasks. When myself and my team are preparing the tea for the tea tasters, we'll have to ensure that we take into account the different time zones of the tea gardens. For example, we may have to prepare the teas from India (4.5 hrs ahead) and feedback the comments to the tea gardens before we prepare the teas from Kenya (2 hrs ahead).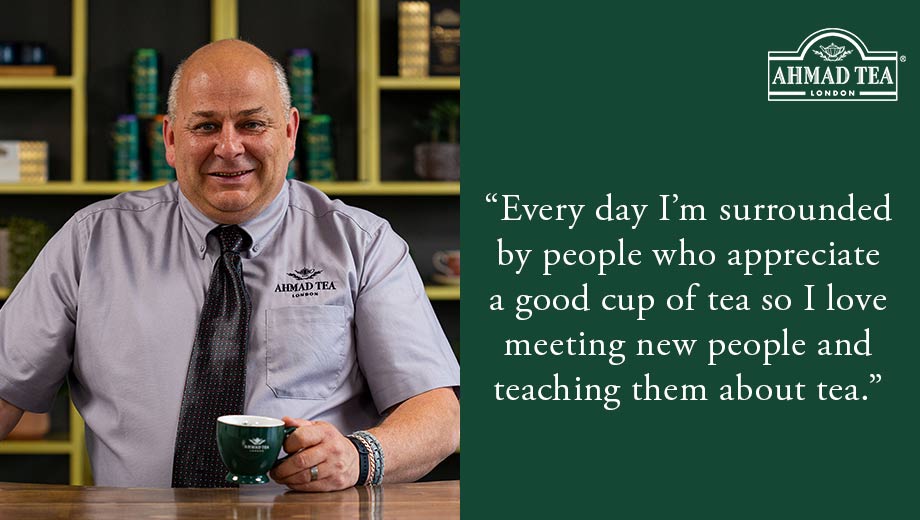 What's your favourite part of the job?
I love meeting tea drinkers at events. Every day I'm surrounded by people who appreciate a good cup of tea so I love meeting new people and teaching them about tea. I've recently just returned from a brilliant event in front of the pyramids in Egypt where we taught guests how to build their own blend of teas to celebrate Ahmad Tea's success in Egypt for over 30 years. The enthusiasm of the guests, coupled by the atmospheric location, made it a very special event.
How do you envisage the tea industry changing in the future?
I think that as an industry we'll be spending as increasing amount of time educating people on why buying a high-quality tea is important for the taste as well as the industry as a whole. We're also seeing a resurgence of people drinking loose leaf tea and I think there's an appetite for people wanting to understand how to brew the best cup of tea using loose leaf tea. 
How would you describe working at Ahmad Tea?
As a company we are passionate about tea and this passion flows down to every part of the business. It is a family business and the family values of kindness rub off in everything we do. Everyone mucks in with events and busy periods and hard work is celebrated. 
Ahmad Tea is also filled with some interesting characters and so if you listen, you'll end up learning a lot. In this business, if you treat people with respect and work hard, you'll get that respect back. 
What's your favourite cup of tea?
It has to be a second flush Assam – I love a malty cup of tea.