This month, we were delighted to spend some time with Pennie Doddington, Ahmad Tea's data analyst, who has been with the company for around 14 years. She's known for her bubbly personality and can-do attitude. So, without further ado, let's learn more about life at Ahmad Tea through Pennie's eyes.
Please tell us about your job:
I'm Ahmad Tea's data systems project manager. In layman's terms, this means I help prepare and visualise data to enable people across the business to better understand our markets and the impact of our campaigns, among other things. Ultimately, what I do helps people in the company make better decisions. I'm also a techie, so I ensure that all our business systems communicate efficiently. For example, some of our markets track their data differently, so I have to ensure that all the data we collect creates an accurate reflection of what's happening in each market.
What are your favourite aspects of your role?
Unlike many of my colleagues I don't work directly with our partners, I use my love of data to help my peers better understand their markets while identifying opportunities for growth. I also enjoy the variety and complexity of my job, finding and solving problems. I like to think that when things are going well, my work is invisible, as everything runs smoothly, and everyone has access to all the information they need. It's when a system stops working that life gets interesting!
What trends are you seeing in the food industry?
There is significant growth in wellness, with consumers turning to tea for its health benefits. The sales of green tea are also steadily increasing as consumers educate themselves about its health benefits.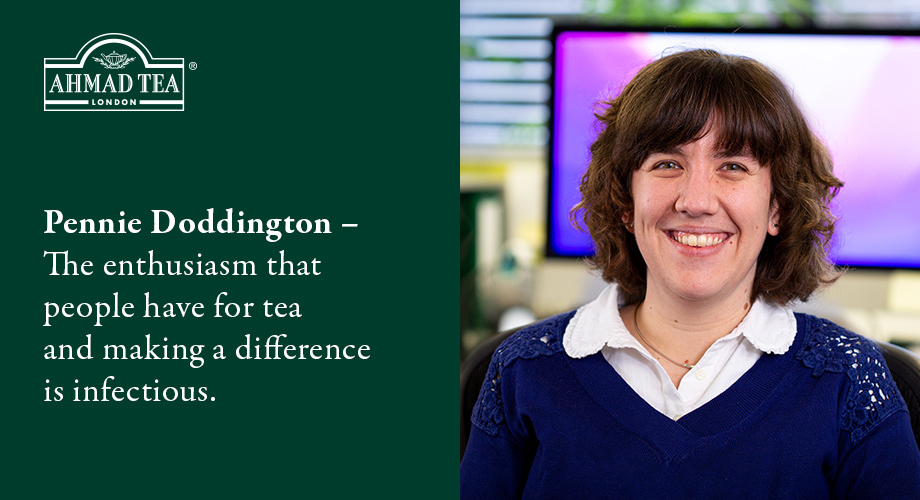 What's your favourite thing about working at Ahmad Tea?
It's definitely the people. I'm fortunate to be surrounded by individuals who are passionate about their work. There's more passion per person per square inch in this company than in most others. The enthusiasm that people have for tea and making a difference is infectious, and I feel very privileged to work here. It's a family business, and because of that, I don't feel like an employee; I feel like a member of the family. Everyone who works here is a true ambassador for the brand. Together, we feel like we are making a difference for those who need it most.
What's your favourite cup of tea?
I love a tea that is now discontinued called English Afternoon. I also enjoy Ahmad Tea's decaf range and the Natural Benefits range of teas.
What do you do to relax?
I really love ice skating. I enjoy the creativity of the routine and challenging myself to learn new moves and become a bit braver with each practice. When I first started learning, it was quite challenging, and I didn't think I would ever make progress. Fast forward a few years, with consistent practice, and I'm loving it. The moves I once thought were impossible are now part of my warm-up routine.
Thanks for sharing your experience as an Ahmad Tea employee, Pennie!