Apple, Ginger & Green Tea Smoothie
Why not try Ahmad Tea in a different way? This smoothie recipe captures the essence of Ahmad Tea, blending quality ingredients for an unusual yet unmistakeably delicious drink.
Apple, Ginger & Green Tea Smoothie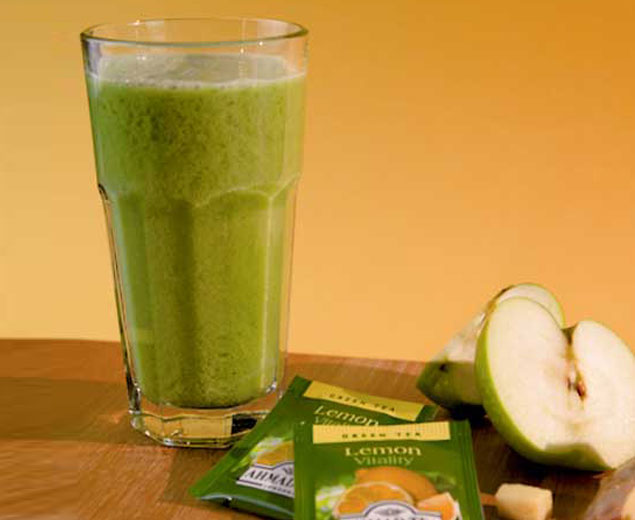 Difficulty
Easy
Time to Make
2 hours +
Blend
Lemon Vitality
FEATURED TEA
Lemon Vitality Green Tea - Teabags
Lemon Vitality combines the soft, grassy flavours of Chinese green tea with an invigorating twist of zesty lemon. This fruity expression offers all the benefits of our much-loved green tea with an energising, citrus lift.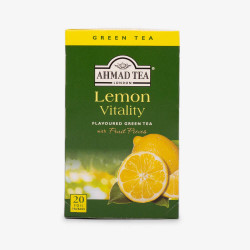 INGREDIENTS
8 Ahmad Tea Lemon Vitality Green Tea ice cubes
240ml unsweetened nut milk
250g spinach (fresh or frozen)
1 large green apple, chopped and seeds removed (leave skin on)
2 x 1 inch chunks fresh ginger
Garnish ideas: pomegranate seeds, chia seeds, goji berries, candied ginger, shredded coconut, nuts
PREPARATION
1. A day prior, make a batch of eight green tea ice cubes using Ahmad Tea Lemon Vitality Green Tea Pure. Brew the tea stronger than the instructions on-pack. Allow two teabags for every 400ml of boiling water and at least 5 minutes for the tea to infuse.
2. Let the tea cool down to room temperature, pour into your ice cube tray and freeze overnight.
3. Blend the ice cubes, nut milk, spinach, apple and ginger in a high speed blender until the mixture is smooth. You may need to add more nut milk or ice to get your preferred texture.
Recipe adapted from: