Tropical Tea Smoothie
Why not try Ahmad Tea in a different way? The unmistakeable flavours of English Tea No.1 blend wonderfully with berries and tropical fruit for a delicious and nutritious smoothie.
Tropical Tea Smoothie
Difficulty
Easy
Time to Make
2 hours +
Blend
English Tea No.1
FEATURED TEA
English Tea No. 1 Tea - Teabags
Our English Tea No.1 is a fresh and elegant black tea with a subtle hint of bergamot. Blended to give a delicately balanced brew, it's a tea for those who enjoy the finer things in life.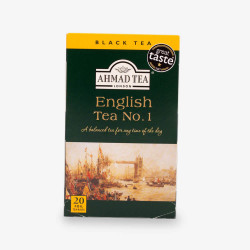 INGREDIENTS
8 Ahmad Tea English Tea No. 1 ice cubes
230g frozen mixed berries
230g frozen pineapple chunks
1 1/2 banana, broken into chunks and frozen
Juice from 1/2 lemon
5 fresh mint leaves, or more to taste
1 teaspoon honey (optional)
PREPARATION
1. A day prior, make a batch of eight green tea ice cubes using Ahmad Tea English Tea No.1. Brew the tea stronger than the instructions on-pack. Allow two teabags for every 400ml of boiling water and at least 5 minutes for the tea to infuse.
2. Let the tea cool down to room temperature, pour into your ice cube tray and freeze overnight.
3. The next day, combine tea, berries, pineapple, banana, lemon juice, mint, and honey in a blender. Blend until the mixture is smooth.
Recipe adapted from:
https://www.allrecipes.com/recipe/247303/very-berry-tea-smoothie/