Berry & Banana Tea Smoothie
Tea smoothie anyone? A simple, yet delicious sweet treat, try this Berry & Banana Tea Smoothie at home yourself. Or get creative and add your own selection of fruits to your favourite Ahmad Tea blend.
Berry & Banana Tea Smoothie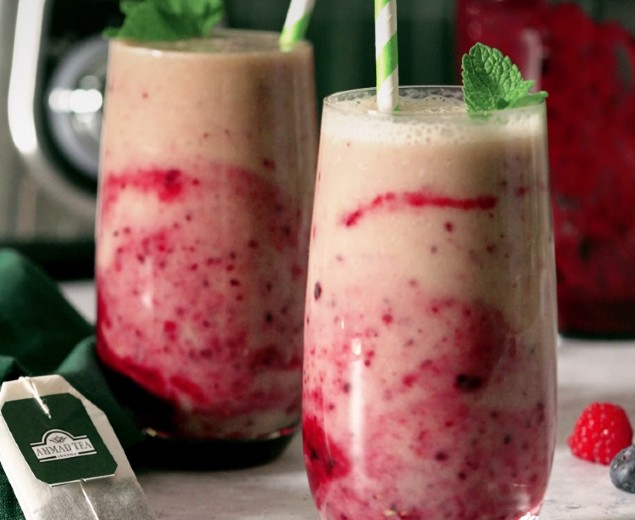 Difficulty
Easy
Time to Make
15 minutes
Blend
Mixed Berries & Hibiscus
FEATURED TEA
Mixed Berries Infusion
Mixed Berry & Hibiscus Infusion is a deliciously full-flavoured blend of summer berries and hedgerow fruits. An intensely fruity herbal tea with a bright cherry-red colour, it will revitalise your spirits from the first sip to the last.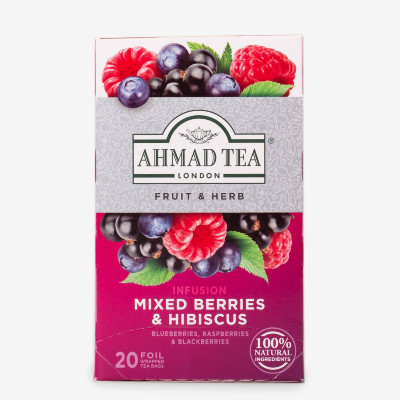 INGREDIENTS
1 cup frozen mixed berries
1 frozen banana
½ cup milk of your choice
2 x Ahmad Tea Mixed Berries & Hibiscus Infusion teabags brewed in 100ml hot water
Mint leaf to garnish
Method
Brew your Ahmad Tea Mixed Berries & Hibiscus in 100ml water and let it cool for at least 4 hours, or preferably overnight.
Using blender/smoothie maker, blitz your frozen mixed berries until pureed and add to your glass of choice.
Add your frozen bananas, milk of choice and Ahmad Tea blend into the blender and puree until smooth.
Combine your two mixtures, garnish with fresh mint leaves and enjoy!