Vegan Chai Spice Tofu
Celebrating Veganuary with Lucy and Lentils', this simple recipe marries our comforting Chai Spice brew with aromatic spices and fresh vegetables for a delicious evening meal. If you've enjoyed watching Lucy's recipe on Instagram, here's how to make it at home. Enjoy!
Vegan Chai Spice Tofu
Difficulty
Easy
Time to Make
30 minutes
Blend
Chai Spice
FEATURED TEA
Chai Spice
Our Chai Spice blend is a bold and satisfying brew perfect for adding some spice to your day. It's inspired by Indian chai – a much-loved traditional drink whose recipe varies from region to region (and even family to family). Our version uses aromatic spices to create a soothing contrast to our favourite Indian black tea.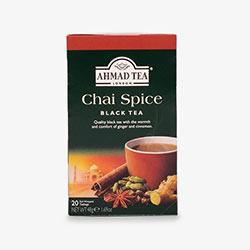 INGREDIENTS
Ingredients:
3 teabags of Ahmad Tea Chai Spice
370g firm tofu, cubed
Thumb sized piece of ginger, chopped
3 large cloves garlic, finely chopped
1 tbsp tamari (or soy sauce)
1 tsp sesame seeds
250g tender stem broccoli
1 tbsp chilli crisp oil to garnish (optional)
Method
Prep time: 15 minutes
Cooking time: 15 minutes
Start by adding boiling water (around 150ml) to a shallow bowl or dish, add in the tea bags and leave to stew for a minute or two before adding the cubed tofu, chopped ginger and garlic, leave to marinade for a few hours (overnight is best).
Place a wok on high heat, adding sesame oil and fry the tofu, ginger and garlic with around 80ml of the water until crispy on each side, save the rest of the water the tofu for later. 
Once the tofu is crispy, remove from the wok, pour in the rest of the stock then add the tender stem broccoli and boil for around 3 minutes.
Serve up and garnish with sesame seeds and chili crisp oil and enjoy!