English Fruit Scones
There is nothing more quintessentially English than fruit scones, enjoyed with a hot cup of tea on a pleasant spring afternoon. We've shared our favourite fruit scone recipe, adapted from Jane's Patisserie's. Enjoy this quick and easy method for fruit scones with a classic afternoon tea.
English Fruit Scones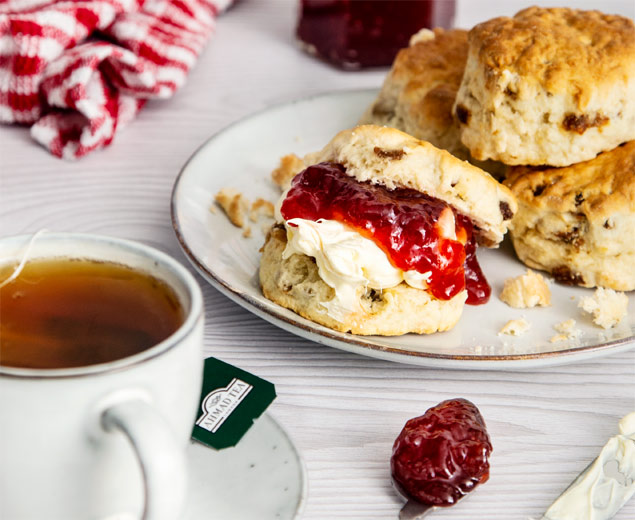 Difficulty
Easy
Time to Make
1 hour
Blend
English Tea No.1
FEATURED TEA
English Tea No.1
Our light and fragrant signature blend is the perfect accompaniment to an early afternoon sweet treat.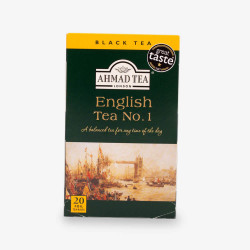 INGREDIENTS
350g Self Raising Flour
1 tsp Baking Powder
1/4 tsp Salt
100g Unsalted Butter
50g Caster Sugar
1½ tsp Lemon Juice
200ml Milk
1 tsp Vanilla Extract
150g Sultanas or Raisins
1 Egg
Method
1) Preheat your oven to 200C with a lined baking tray inside.
2) To a food processor, add the flour, cubed butter, salt and baking powder and combine until the mixture resemble fluffy crumbs. Then, in a bowl stir in the caster sugar and add the lemon juice.
3) Warm the milk on the hob but be careful not to make it too hot. Add the vanilla extract.
4) Gradually add the milk and vanilla to the bowl, stirring continually until the dough mixture is dry to the touch.
5) Add the sultanas or raisins and fold them into the mixture, ensuring they are evenly distributed. Dust your kitchen counter with flour and fold over the dough until smooth.
6) Using a rolling pin, roll out the dough until it is around 3-4cm thick. Then, using a round cutter, make as many scone shapes as you can out of the dough.
7) Place the scones carefully on the preheated tray and space them out nicely. Beat the egg and brush the tops of the scones, then put the tray in the oven for 10-12 minutes. Allow the scones to cool slightly, but they're best enjoyed still warm in the middle.
8) Enjoy your fruit scones with a plenty of jam, clotted cream and, of course, a hearty cup of English Tea No.1 as an early afternoon treat or part of a classic afternoon tea.
Recipe adapted from Jane's Patisserie, with thanks.