English Tea No.1 & Honey Cake
Looking for something utterly delicious to bake? Give a classic cup of black tea new life with this English Tea No. 1 cake with honey buttercream.
English Tea No.1 & Honey Cake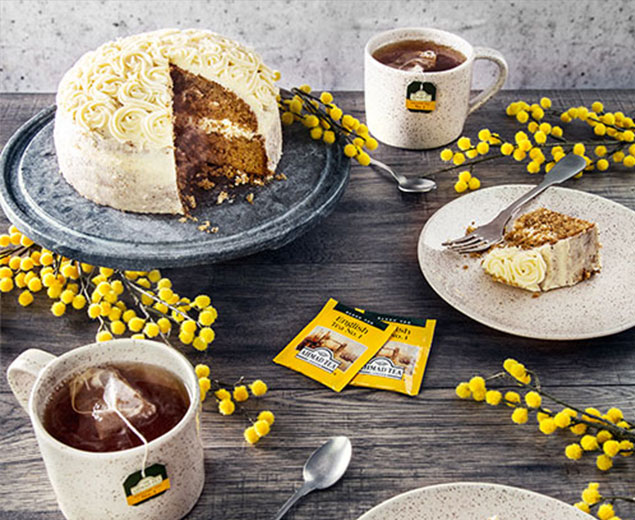 Difficulty
Moderate
Time to Make
1 hour
Blend
English Tea No.1
FEATURED TEA
English Tea No. 1 Tea - Teabags
Our English Tea No.1 is a fresh and elegant black tea with a subtle hint of bergamot. Blended to give a delicately balanced brew, it's a tea for those who enjoy the finer things in life.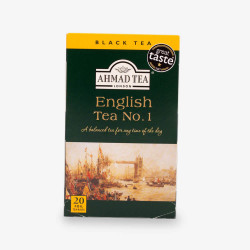 INGREDIENTS
Makes 9-inch cake (2 5-inch cakes or 18 cupcakes)
FOR THE CAKE
1 cup (235 ml) milk
Contents of 3 Ahmad Tea English Tea No. 1 teabags
1/4 cup (55 grams) butter, room temperature
1 cup (225 grams) granulated sugar
2 large eggs
1/4 cup vegetable oil
1 teaspoon vanilla extract
1 3/4 cups (175 grams) cake flour
1 1/2 teaspoons baking powder
1/2 teaspoon baking soda
1/2 teaspoon salt
FOR THE HONEY BUTTERCREAM
1/2 cup (110 grams) butter, room temperature
3 tablespoons honey
2 cups (250 grams) icing sugar
Pinch of salt
RECIPE FOR CAKE
1. Preheat oven to 350 degrees F (180 degrees C). Grease a 9-inch round cake pan.
2. Warm the milk until near boiling on the stove or in the microwave. Cut open the teabags and add the tea directly into the milk. Allow to cool.
3. In a large mixing bowl, cream together the butter and sugar until light and fluffy. Add the eggs one at a time, beating well after each addition. Beat in the vegetable oil and vanilla extract. Gradually add in the cake flour, baking powder, baking soda, and salt. Stir in the tea brewed milk, mixing until batter is uniform and smooth.
4. Transfer batter to prepared pan and bake for 30-40 minutes (18-22 minutes for cupcakes), or until a toothpick inserted into the centre comes out clean. Remove from the oven and allow to cool before frosting or serving.
RECIPE FOR BUTTERCREAM
1. In a large mixing bowl, beat the butter and honey until smooth.
2. Add the powdered sugar and salt and continue mixing until the frosting comes together. If the frosting is too runny, add more powdered sugar until it reaches the right consistency. Likewise, if the frosting is too stiff, add more honey (or a splash of milk) to thin it out. If the frosting is too sweet, add a pinch more salt until the desired sweetness is achieved.
3. Spread or pipe the honey buttercream onto the cooled cake and serve.
Adapted from Pastry Affair:
https://www.pastryaffair.com/blog/black-tea-cake-with-honey-buttercream.html