Chocolate, Orange & Rooibos Brownies
Would you like something new to bake? Why not give the classic brownie a twist with our vegan and gluten free Chocolate, Orange and Rooibos brownie recipe? A delightful treat for an afternoon tea break!
Chocolate, Orange & Rooibos Brownies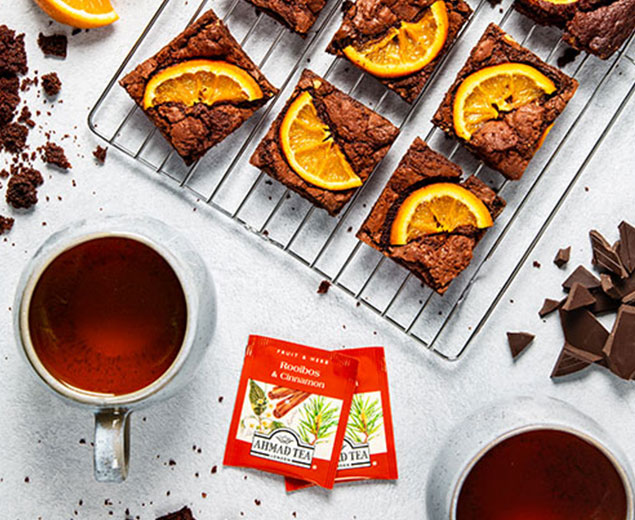 Difficulty
Moderate
Time to Make
2 hours
Blend
Rooibos & Cinnamon infusion
FEATURED TEA
Rooibos & Cinnamon Infusion - Teabags
South African Rooibos, also known as Red Tea, is renowned throughout the world as an exceptional tea to unwind and restore.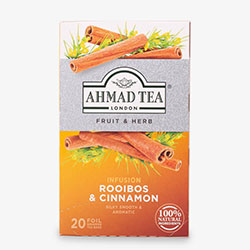 INGREDIENTS
40g cocoa powder
90g vegan dark chocolate
3 Ahmad Tea Rooibos & Cinnamon teabags
100g granulated sugar
100g caster sugar
2 tablespoons coconut oil
½ teaspoon vanilla extract
4 oranges
160g almond flour
1 teaspoon baking soda
PREPARATION
Place 2 fresh oranges in a bowl of boiling water for a few seconds to remove the wax and sterilise. Remove them and cut into even slices – these will go on top of our brownie.
Place these orange slices in a pot of boiling water with granulated sugar. Cover and simmer on a low heat for about an hour, until soft and sweet.
In another pot, gently bring to the boil vanilla, caster sugar and the juice and zest of 2 oranges. Add the contents of 3 Rooibos & Cinnamon tea bags. Simmer until sugar begins to caramelise. Add coconut oil, take off the heat and allow to cool.
Gently melt dark chocolate in a bain-marie and allow to cool. In a large bowl, combine almond flour, cocoa powder and baking soda. Slowly fold in the orange and tea mixture above and combine well. Finally, add the melted dark chocolate.
Line an 8 inch brownie tin (or similar) with baking paper and lightly grease with coconut oil to avoid sticking. Place our mixture in the tin and gently pat down to create an even surface. Decorate with sugared oranges.
Pre-heat your oven to 170°C / 350F / Gas mark 4 and bake brownies for 30 mins, or until you can insert a knife into the centre of the brownie and it comes out clean.