Earl Grey, Lemon & Blackberry Cake
Indulge with this delicious blackberry cake, flavoured with Earl Grey tea and lemon…why not treat yourself with a tempting slice?
Earl Grey, Lemon & Blackberry Cake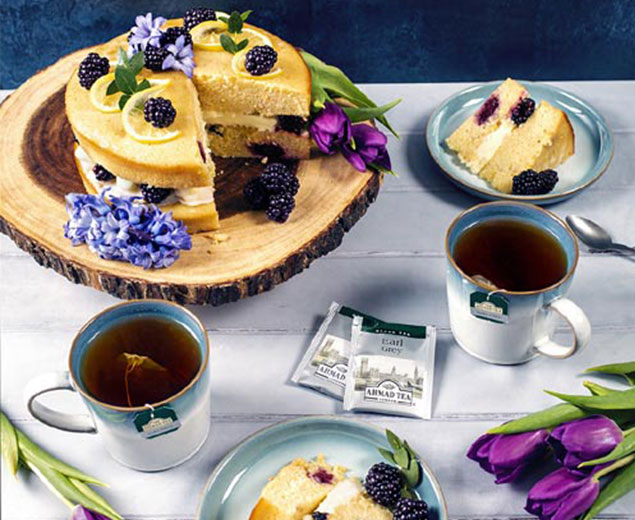 Difficulty
Moderate
Time to Make
1 hour
Blend
Earl Grey
FEATURED TEA
Earl Grey Tea - Teabags
Earl Grey is a sophisticated brew perfect for the discerning tea lover. Soothing yet uplifting, it is one of our customers' highest-rated teas.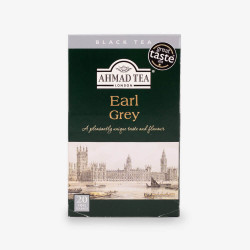 INGREDIENTS
FOR THE CAKE
6 large eggs
300g caster sugar
1 vanilla pod
200g sour cream
300g plain flour
1 teaspoon of baking powder
100g lukewarm melted butter
130g lemon juice
Zest of 4 lemons
150g of blackberries
FOR THE SYRUP
250ml of water
2 Ahmad Tea Earl Grey teabag
250g white sugar
FOR THE LEMON BUTTERCREAM
125g butter – room temperature
250g icing sugar
Juice of 1 lemon
A little milk
FOR THE DECORATION
Handful of blackberries
Lemon slices
PREPARATION
Preheat the oven to 160°C / 325F / Gas mark 3 and prepare and line two 20cm round baking tins.
Beat the eggs, sugar and vanilla in a food blender until the mixture has a thick consistency and is light in colour. Slow down the beating and add the sour cream, flour, baking powder, melted butter, lemon juice and zest. Combine until the mixture is smooth.
Pour half the batter mix into the two baking tins, sprinkle in the blackberries and pour in the remainder of the batter, splitting evenly. Bake for 40 minutes or until cooked through.
For the syrup, put the water, sugar and Earl Grey teabags in a saucepan, and heat until the sugar has dissolved.
To make the buttercream beat the butter on a low speed until soft, add the icing sugar a tablespoon at a time and then finally add the lemon juice. The buttercream should be soft and spreadable. If the consistency is too thick add a small amount of milk, or if too runny, more icing sugar should be added.
Put the sponges onto a cooling rack and, whilst still warm, insert small holes across the tops with a skewer. Slowly drizzle the syrup across the cakes. Once cooled, start assembling your cake by spreading buttercream and blackberries on top of your bottom layer, then place the other sponge on top. Lightly dust with icing sugar and decorate.