Sri Lankan Prawn Curry
Ever tried pairing tea with curry? Now is the time. Try this sensationally spicy Sri Lankan prawn curry recipe by @neyskitchen.official with @spicekitchenuk spices, alongside our fresh and fragrant Green Tea. ​ The versatile delicate, light tea makes a fine palate cleanser to the punchiness of the Sri Lankan spices.​
Sri Lankan Prawn Curry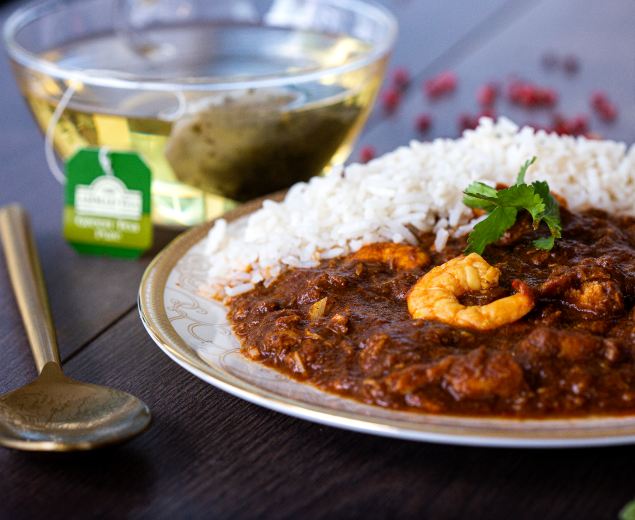 Difficulty
Moderate
Time to Make
2 hours +
Blend
Green Tea
FEATURED TEA
Green Tea Pure
The light and delicate flavours of our pure green tea blance out the spicyness of the Sri Lankan spices.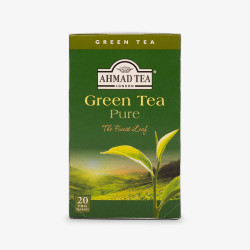 INGREDIENTS
1 large piece of ginger, peeled and grated
3 garlic cloves, minced
1 bird's eye chilli, chopped
1 lemon, juiced
10 oz. monkfish chunks
6 oz. raw prawns, shelled
½ tsp. Sri Lankan spice (by Spice Kitchen)
½ tsp. Spice Kitchen paprika
½ tsp. Spice Kitchen ground turmeric
½ tsp. salt
¼ tsp. ground black pepper
Sauce
2-3 tbsp. coconut oil (or vegetable oil)
1 red onion, finely chopped
2 tsp. Sri Lankan spice (by Spice Kitchen)
1 tsp. Garam Masala (by Spice Kitchen)
1 tsp. ground cinnamon
1 tsp. paprika
¼ tsp. chilli powder or to taste
1 ½ tbsp. tomato purée
¼ pt. coconut milk
1 pt. water, plus extra if necessary
Salt to taste
6 curry leaves
METHOD
Place the grated ginger, garlic, chilli and lemon juice in a food blender. Blend until you have a paste.
Next, place the monkfish and prawns into a mixing bowl then add half of the garlic-ginger paste along with the rest of the marinade ingredients. Gently mix together, cover and set aside.
Start on the curry sauce. Place a medium-large pan over a medium heat. Add 2 tbsp. oil and, once it's heated, add the red onions and cook them until they soften. Next, stir in the remaining garlic-ginger paste. Add a little more oil if onion garlic ginger mix starts sticking to the pan.
Add the spices and stir until fragrant, then thoroughly mix in the tomato purée.
Once everything has been mixed well, stir in the coconut milk followed by ½ pt. water to begin with. Check the seasoning by adding salt to taste. Reduce the heat to low, cover the pan with a lid then leave to simmer for 15 minutes.
After 15 minutes, remove the lid from the pan and give it a good stir.
Carefully transfer the sauce into a food blender. Ensure the lid is on tight then blend until you have a smooth paste. (This step is not strictly necessary. You can skip this process if you're not fussed about bits of onion or ginger in your sauce).
Transfer the paste back into the pan. Add a little more water until you reach a desired consistency. I added roughly the remaining ½ pt. water. Stir in the curry leaves and simmer the sauce on a low heat (with the lid on) for a further 15-20 minutes for the flavours to intensify.
Increase the heat to about low-medium. Gently arrange the monkfish and prawns in the sauce. Place the lid on top and poach the seafood for about 3 minutes, then gently turn the fish over and cook for another 3 minutes.
Once thoroughly cooked, serve hot with rice and roti. Enjoy!
For more spices and ingredients visit spicekitchenuk.com.