Birria Tacos with Cardamom Tea
What could be better than pairing fabulous Mexican sweet and savoury tacos with a hearty cup of tea?​ The aromatic, almost citrusy tang of our famous Cardamom black tea makes a tasty accompaniment to this rich, slow cooked Birria Taco recipe by @sanjcooks, made with spices from @spicekitchenuk.​
Birria Tacos with Cardamom Tea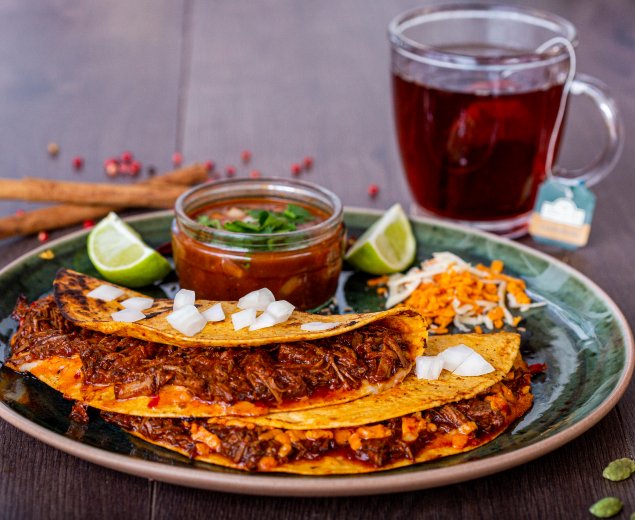 Difficulty
Advanced
Time to Make
2 hours +
Blend
Cardamom Tea
FEATURED TEA
Cardamom Tea
One of our global best sellers, this delightfully flavoured tea is blended with the warm, aromatic spiciness of cardamom.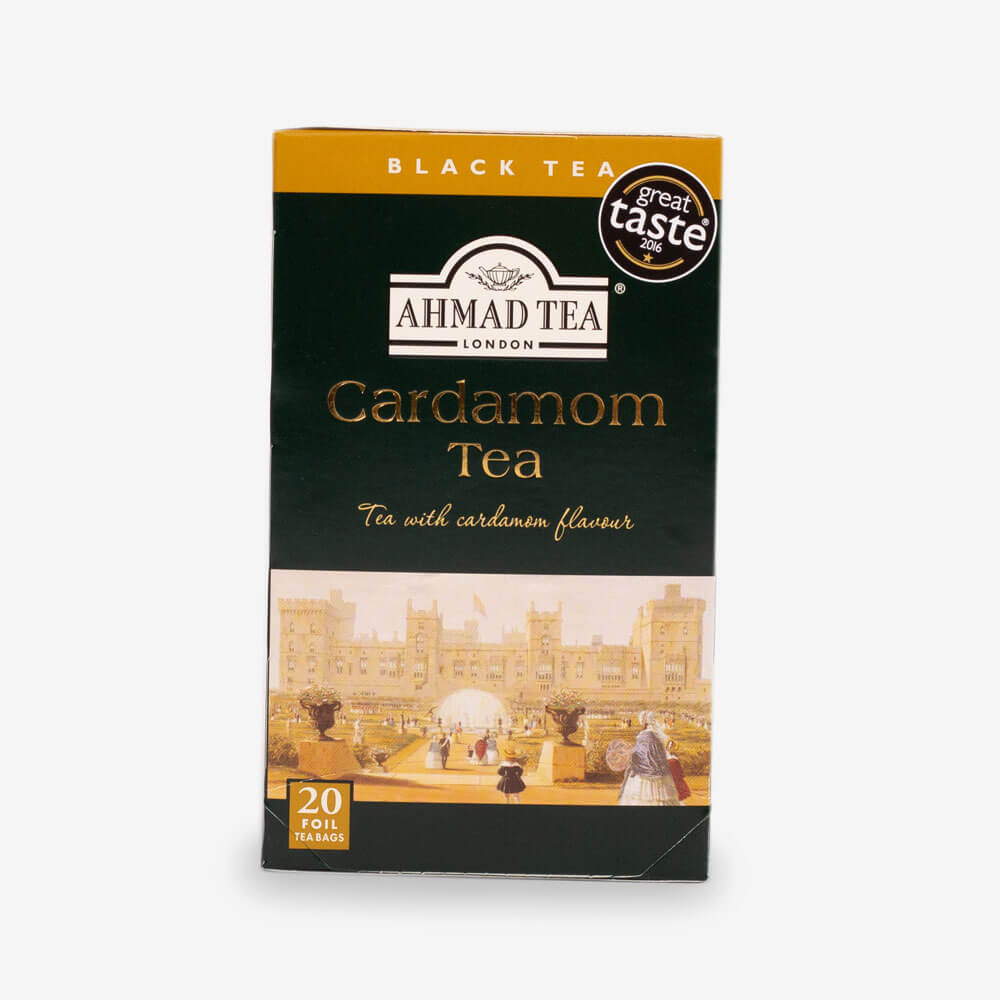 INGREDIENTS
500g Beef chuck
250g Braising beef
6 Ancho chillies (ends trimmed and de-seeded)
6 Guajillo chillies (ends trimmed and de-seeded)
3 Chiles de arbol (ends trimmed and de-seeded)
1 Large white onion
7 Garlic cloves, peeled
5 Large tomatoes
1 tbsp Black Spice Kitchen peppercorn
1 tsp Spice Kitchen dried oregano
1 tsp Spice Kitchen cumin seeds
1 tsp Spice Kitchen coriander seeds
½ tsp Spice Kitchen ground cloves (grind down)
½ Spice Kitchen cinnamon stick
3 Spice Kitchen bay leaves
3 Cups of beef broth
1 heaped teaspoon Vinegar
6 Corn tortillas
A large handful of fresh coriander, finely chopped
½ White onion, finely chopped
Oaxacan Mexican Cheese or Grated Mozzarella
For more spices and ingredients visit spicekitchenuk.com.
Method
Meat
Bring the meat to room temperature, about 30 minutes and then sprinkle on all sides with salt and pepper. In a large skillet or pan), set over medium-high heat, add the olive oil. When hot, add the meat and sear on all sides until browned. You'll have to do this in batches. Transfer to a bowl.
Sauce:
Meanwhile, in another medium pot, add the dried chiles, halved white onion, garlic cloves, tomatoes, spices, bay leaves and add cold water until it covers everything. Place over medium heat and simmer gently for about 10 minutes. Pour through a strainer and transfer everything, including the whole spices to a blender. Add the vinegar and about 100 ml beef broth and blend until very smooth, about 2 minutes. Add salt to taste.
Meat
Preheat the oven to 140 degrees C. Add the meat back to a large casserole dish or oven proof pot and pour the sauce over it. To the blender, add the remaining 1 ml of broth or water and swirl it around to pick up any leftover sauce and pour it into the oven pot. Place over medium heat until it reaches a gentle simmer and then immediately cover and transfer to the preheated oven. Cook for about 5 – 6 hours, until the meat is tender.
Tacos
Mix together the coriander, white onion, lime and salt. Remove the meat from the sauce and shred using two forks. Ladle the broth into a bowl and add a handful of chopped coriander. Add a non-stick skillet over medium heat. Dip the tortilla into the top of the broth and add it to the skillet. Pan fry on one side for about 30 seconds and then flip over. Add a some of the shredded meat and the shredded cheese. Fold over and cook until pan fried on both sides, about 1 minute. Transfer to a plate and serve alongside the broth.