Cinnamon Shortcakes with Rooibos
Something for cinnamon lovers - try this superb pairing of spicy Cinnamon Caramel Apples and Shortcakes with our comforting Rooibos & Cinnamon.​ Natasha MacAller's recipe, with spices from Spice Kitchen UK, makes a delicious dessert for cold weather. Give the recipe a try yourself.
Cinnamon Shortcakes with Rooibos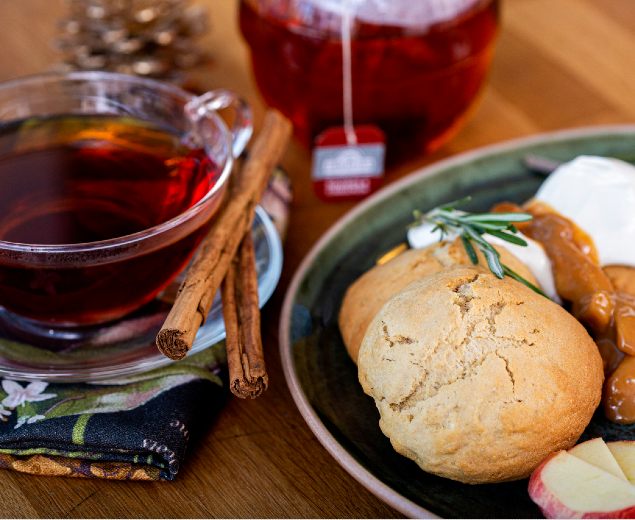 Difficulty
Moderate
Time to Make
Blend
Rooibos & Cinnamon infusion
FEATURED TEA
Rooibos & Cinnamon
The light spiciness of our Rooibos & Cinnamon infusion pairs superbly with sweet shortcakes.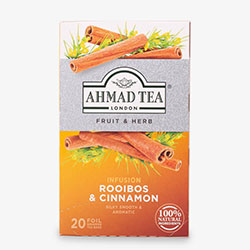 INGREDIENTS
Shortcakes
6 oz/170g all-purpose/plain flour
4 oz/115g masa harina (Maseca) or finely ground polenta or cornmeal flour
1 heaped tsp baking powder
2 oz/60g granulated sugar
1 Tbsp/20g grated piloncillo or muscovado sugar
½ tsp salt
¼ rounded tsp fresh ground black pepper
½ lemon or 1 lime zested
1tsp blanched fresh rosemary needles, patted dry and minced or ½ tsp dried
10 oz/200ml whole milk
3 oz/90ml butter, melted and cooled (plus additional cold for the skillet)
1 large egg beaten
2 tbsp Spice Kitchen cinnamon sugar for sprinkling on top before baking
Spicy Cinnamon Caramel Apples
4oz/115ml water
14 oz/400g raw sugar
4oz/115ml golden syrup
¼ tsp kosher salt
2 Spice Kitchen cinnamon sticks, toasted
1-2 dried Spice Kitchen whole chilis or 3 if you like really hot!
1 tsp vanilla extract
2 Tablespoons/1oz/30g soft butter
2 pounds/1kg mixture of your favourite crisp eating apples such as granny smith, gala or peeled cored and cut into ½ inch thick slices.
Shortcakes
Preheat oven to 375°F. Place a medium-large cast iron skillet or ceramic or Pyrex pie dish in the oven to heat up.
Whisk masa harina, baking powder, sugars, salt, pepper, lemon zest, rosemary and flour in a large bowl.
Whisk together the milk, butter and beaten eggs in a medium bowl.
Add wet to dry and gently fold over until just combined. The batter will thicken as it sits and can be stored covered overnight. C
Carefully remove skillet from oven, place on top and add a large pat of butter swirling the butter to cover the bottom evenly.
Use a large ice cream scoop or dessertspoon and scoop batter spacing 2 inches apart into 6 portions in skillet.
Sprinkle with the cinnamon sugar. Return quickly to oven and bake for 15-17 minutes until just set- (use your finger to test for doneness) and golden brown.
Remove from oven and cool for 5-10 minutes before serving.
Spicy Cinnamon Caramel Apples
While the shortcakes are baking (or make ahead of time), make the spicy cinnamon caramel apples. Flame toast the cinnamon sticks held with a pair of tongs over a flame until scorched. It will smell wonderful!
Using a medium sized clean saucepot; combine the sugar, golden syrup and water. Bring to the boil, then add salt, cinnamon sticks and chili peppers.
Cook without stirring to 275F/190C. Remove from heat and add butter stirring until well combined. Be careful, as it will bubble up.
Carefully add all the apples and coat with caramel using a wooden spoon or heat resistant spatula. Remove from the heat stirring occasionally. The caramel will thin as the apples release their juices. Can be made ahead of time but warm just before serving.
To Serve:
120g Thick plain yogurt or soured cream
4 springs flowering rosemary
Place skillet shortcake on a small plate. Place a generous spoonful of cinnamon apples on top.
Garnish with a dessert spoonful of soured cream as pictured. Drizzle over with a teaspoon of sauce. Garnish with small stem of flowering rosemary.