Tearamisu
Our tea inspired tiramisu is sure to impress whether you are serving it to friends or treating yourself to a little slice of heaven.
Tearamisu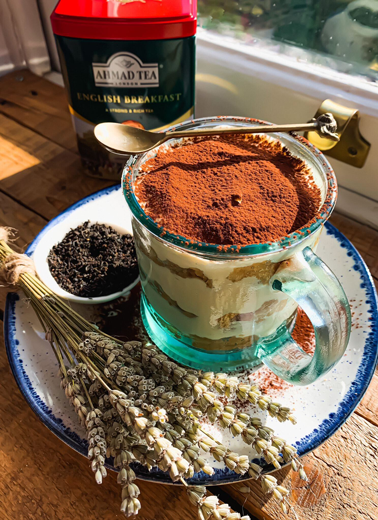 Difficulty
Moderate
Time to Make
1 hour
Blend
English Breakfast
FEATURED TEA
English Breakfast
English Breakfast is one of the jewels in the British tea crown. Bold, satisfying and deliciously smooth, it makeds the perfect cup at any time of the day. To make this blend, our Tea Masters balance malty Indian Assam with brisk Ceylon and bright Kenyan teas. Wherever your day takes you, a cup of our English Breakfast Tea helps get you there.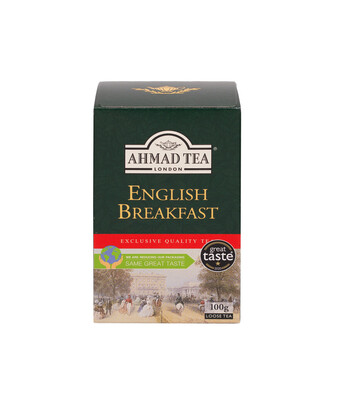 INGREDIENTS
500g Mascarpone
3 Eggs
12g Ahmad Tea (English Breakfast)
75ml Marsala
65g Granulated Sugar
1 Pack of Sponge fingers (Approx 200g)
Cocoa Powder to dust
Makes 6-7 Individual OR serves 7-8 in dish.
Method
Prepare the dish, or individual dishes for the Teamarisu.
Submerge 12g of Ahmad English Breakfast Loose-leaf Tea in 300ml of boiling water. Brew for 8 minutes, sieve and place to one side to cool.
Separate your egg yolks from white in two separate bowls. (Making sure there is no egg yolk visible in the white!)
Gently beat your egg yolks and sugar with an electric whisk until pale in colour.
Then in a separate bowl combine your egg yolk and sugar mix with the Mascarpone, do this bit by bit to ensure you don't create any lumps. You should be left with a thick creamy smooth mix.
Whisk the egg whites until they develop stiff peaks. This is easily done in a stand mixer (whisk attachment) or with an electric hand mixer.
Gently, bit by bit, fold the egg whites into the mascarpone mix. It is important to do this slowly as you don't want to split the mixture. If there are any small remaining lumps, they should be ok once the mix has set in the fridge.
To the cooled tea add 75ml of Marsala, stir to combine. Add 50ml if you prefer less alcohol.
Dip your sponge fingers into the liquid, ensuring you hold them in long enough to let the whole sponge absorb the liquid, however not long enough for them to start disintegrating!
Using a preferred dish or individual dishes start by layering your soaked sponge fingers on the bottom, making sure not to stack them.
Using a tablespoon, distribute the mascarpone mix on top of the sponges, smoothing out to the sides. Try not to push the mix down too much, just lightly move it around to keep the height and layers. As a rule of thumb, I usually do the same amount of cream mix to the thickness of the sponge layer when building the Teamarisu.
Repeat this process until you have no more room in the dish! Make sure to finish with the cream mix not a sponge layer. I have used a piping bag to achieve a more traditional styled top, but if you don't have a piping bag just smooth the top out evenly. Using a sieve, dust the top with cocoa powder. Pour yourself a lovely cup of Tea and enjoy your Teamarisu!