Tea Caviar
Create a vegan friendly tea caviar using our English breakfast blend.
Tea Caviar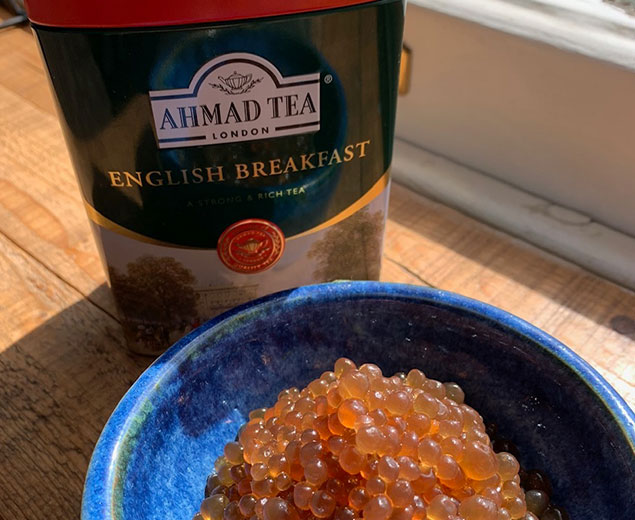 Difficulty
Moderate
Time to Make
1.5 Hours
Blend
English Breakfast
FEATURED TEA
English Breakfast Tea
English Breakfast is one of the jewels in the British tea crown. Bold, satisfying and deliciously smooth, it's the perfect cuppa – any time of the day. To make this blend, our Tea Masters balance malty Indian Assam with brisk Ceylon and bright Kenyan teas. We use a high proportion of second flush Assam (leaves picked at the peak of their quality) to create an invigorating brew full of rich, comforting flavours. Wherever your day takes you, a cup of our English Breakfast Tea helps get you there. Awarded 1 Star at the 2022 Great Taste Awards.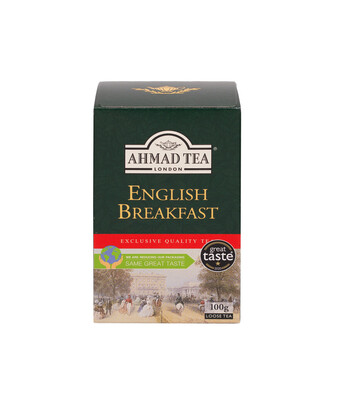 INGREDIENTS
20g of Loose Leaf Ahmad English Breakfast Tea
500ml Boiling water
2g Agar Agar Powder (I use micro scales as it's important to measure accurately)
45g of Sugar
250g Brewed Tea
400ml of Flavourless cooking oil
Method
Our vegan friendly tea caviar is sure to impress. Use in cold milk, to decorate mocktails or on top of scones.
1 Pour your flavourless cooking oil into a measuring jug and place in the freezer for at least an hour, it must be very cold when using later.
2. Brew Tea in a cafetiere or teapot for 5-6 minutes.
3. Combine your sugar, agar powder and 250ml of brewed tea in a saucepan. Cook until bubbling but not boiling for 3-5 minutes (this activates the agar agar, ensure you stir consistently)
4. Leave to cool in the pan for 10 minutes off the heat.
5. Pour solution into a squeezy bottle and set to one side.
6. Remove your oil from the freezer.
7. Gently squeeze the bottle full of the tea solution into the oil from a slight height. Move the bottle gently in a circular motion to allow space for the caviar to fall and form.
8. Gently drain your caviar into a sieve , the oil can be saved and reused. Wash thoroughly until there is no oil on the caviar.
9. Place in the fridge and use with 3 days.