Vegan Earl Grey Cake
This fabulous Vegan Earl Grey Cake recipe is the work of Nadia in her healthy kitchen. We gave her the challenge of coming up with something delicious using our best-loved blends, and what resulted certainly did not disappoint. Try this Earl Grey-infused recipe at home and let us know how you got on.
Vegan Earl Grey Cake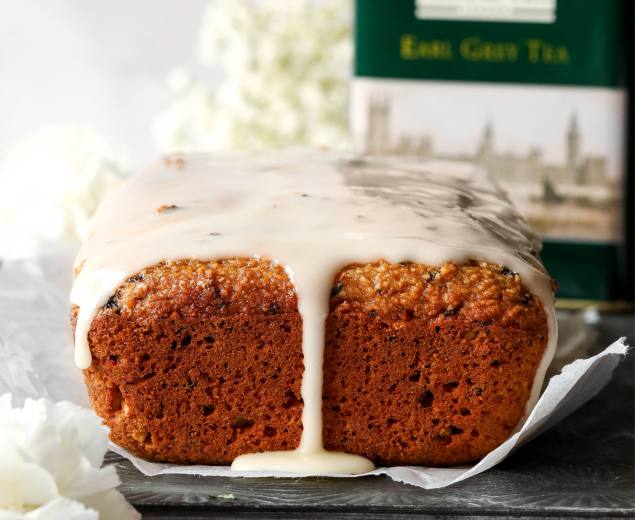 Difficulty
Moderate
Time to Make
2 hours
Blend
Earl Grey
FEATURED TEA
Earl Grey Loose Tea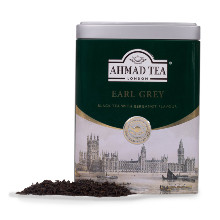 INGREDIENTS
Serves 8-10
3 tbsp Ahmad Earl Grey loose leaf tea
6 tbsp plant milk, divided e.g. oat milk
125g ground almonds
70g oat flour – plain oats blended into a flour in the food processor. Use gluten-free oats if necessary.
40g plain flour or gluten-free plain flour
1 ½ tsp baking powder
1/4 tsp salt
125g plant yoghurt e.g. coconut yoghurt
120ml maple syrup
1 tbsp ground flaxseed + 3 tbsp water
For the glaze
50g icing sugar
1 tbsp orange juice
Method
Preheat your oven to 180C/160C fan.
Add 4 tbsp of milk into a saucepan along with the loose Earl Grey leaves.
Simmer gently for 5 minutes, then take off the heat.
Add the ground flaxseed to a small bowl along with 3 tbsp of water. Leave for 10 minutes to set.
In a large bowl, mix together the ground almonds, oat flour, plain flour, baking powder and salt.
Add the coconut yoghurt, maple syrup, set flaxseed mixture, the Earl Grey mixture and the remaining 2 tbsp of milk. Mix everything together until well combined.
Transfer into a loaf tin lined with parchment paper and bake for 35-40 minutes. Leave to cool completely.
To make the glaze, simple mix the icing sugar with the orange juice in a bowl, then pour over the cooled loaf.
Enjoy!
For more healthy recipe visit Nadia's Healthy Kitchen website or follow her on Instagram.