We're delighted that this month our Managing Director, Dr Ebraham Afshar has shared his business insights with us. In this blog you'll learn why Ahmad Tea was created, what values are instilled throughout the business and what advice he would give to anyone thinking of setting up the next FMCG challenger brand. Pop the kettle on and enjoy. Over to you Dr Ebraham:
What made you start your business? 
In 1986 we spotted a gap in the market for the availability of high-quality teas. Once we entered the market, like lots of businesses, we realised that it was much more complicated than we first thought. After four years of hard work we finally turned a corner into profitability and our business has been growing every year since. This year, our business will celebrate its 37th anniversary.
Tell what makes Ahmad Tea different?
Our USP is our consistent commitment to creating high quality tea. We never compromise on quality, no matter what economic situation we are facing.
What problem does Ahmad Tea solve for your customers?
Our main day-to-day business is with our global network of distributors who sell our tea to shops, cafes, restaurants and workplaces in their countries. For these long-standing partners we solve various problems, such as helping them when they are faced with economic turmoil in their country, lack of inventory, or facing unforeseen circumstances. We like to think of our relationship with our distributors as a partnership and we work hard to help them grow their businesses as we are growing ours. It's not a traditional buyer/seller relationship. 
What are your brand values?
Wisdom, creativity (with our blends and our packaging) and humanity. Ahmad Tea was founded on a vision that business is an opportunity to give back, and we have built a network of local charity partners all over the world who are able to take action where it is needed most. Sharing the fruits of our success with those in need is a big driver for us as a business.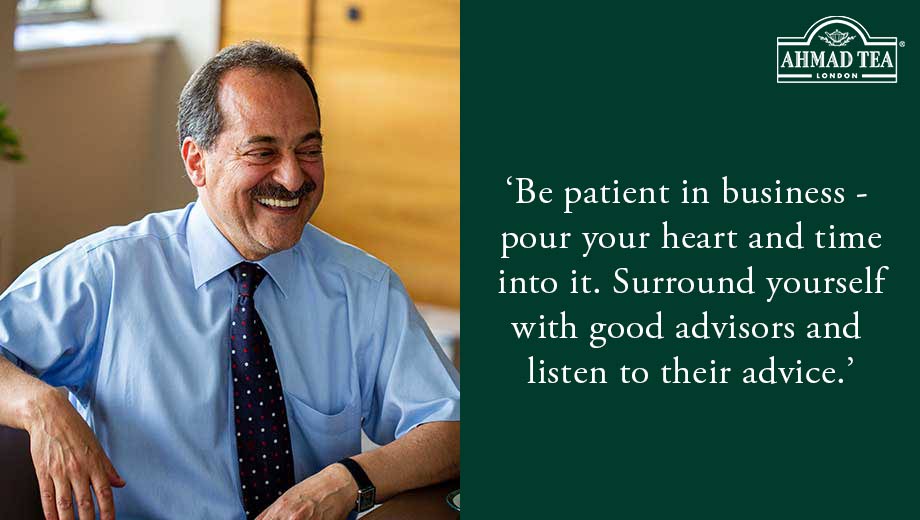 What is your attitude to your competitors?
Many years ago, I used to be quite conscious of our competitors. However, as I and the business have matured, I've come to the conclusion that it's better to focus my attention on what we do, and how we can do it better, rather than looking over our shoulders.
It can be a lonely and pressured place to be as the lead decision maker of the business. What do you do to relax, recharge and hone your focus?
My religion is very important to me and I pray regularly. This helps me not feel lonely and helps me to remain calm. I also meditate which helps. 
What is your company's eco strategy?
Sustainability is at the core of our business. We have recently received a gold accreditation from EcoVadis, the world's largest and most trusted provider of business sustainability ratings. We're continually investing in every area of production to improve our sustainability credentials and are looking to make small improvements that can make a monumental difference over time.
Do you have any advice for anyone starting out in business?
Don't put all your money into it. Be patient – pour your heart and time into it. Understand that it's more than a 9-5 job. Surround yourself with good advisors and listen to their advice. 
Finally, what's your favourite cup of tea?
It's hard to choose but I really enjoy a cup of Darjeeling First Flush. It's floral and full of flavour.
Thank you Dr Ebraham for your time.