Beauty Bellini Mocktail
Did you know you can make mocktails with tea? Try this alcohol-free take on the classic Bellini cocktail with our delicious Beauty blend. The sugar syrup is infused with peach and carob flavours, making a fruity, sweet and creamy drink that looks as good as it tastes.
Beauty Bellini Mocktail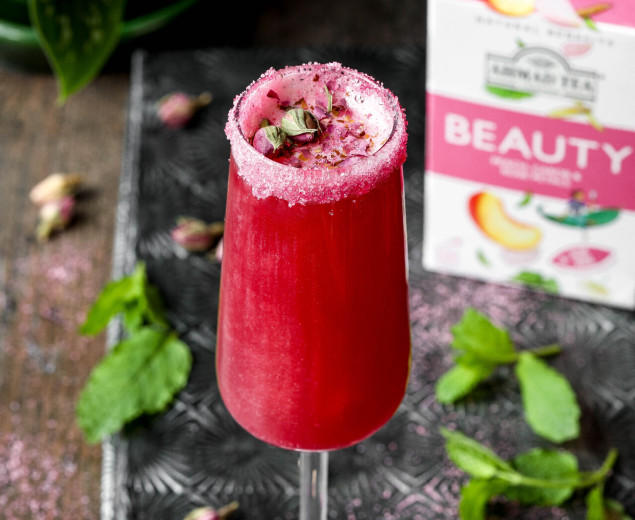 Difficulty
Moderate
Time to Make
30 minutes
Blend
Beauty
FEATURED TEA
Natural Benefits Beauty
Soft, juicy peach and luxurious aloe vera blend with lemon verbena and carob to deliver a naturally sweet and enriching herbal tea.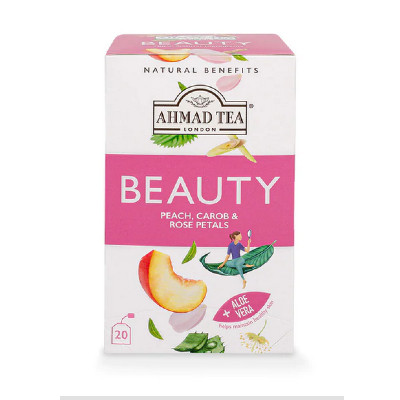 INGREDIENTS
30ml Beauty tea syrup (4 x Beauty Teabags and 100g white caster sugar)
50ml Soda water
20ml bitter lemon
Edible pink glitter
Pink food dye
Rose petals and pink sugar to garnish
Glass: Champagne flute
Equipment: Jigger, Bar spoon
For the Beauty syrup
Brew four Beauty tea bags in 100ml hot water
Measure 100g of white caster sugar into a pan
Pour tea into the sugar and bring to a boil
Boil until sugar is dissolved
Cool then pour into a container and keep in the fridge
For the Beauty Bellini:
Chill glass in the freezer
Rim glass with pink sugar
Pour the beauty syrup and bitter lemon into your flute
Dye soda water pink with food dye and add the edible glitter
Top up drink with pink soda water
Briefly mix to incorporate all the ingredients
Garnish with rose petals