Chai Spice on the rocks
Nothing says Autumn like James Strawbridge's Chai Spice Spritz, easy to make and perfect for Autumn Sun.
Chai Spice on the rocks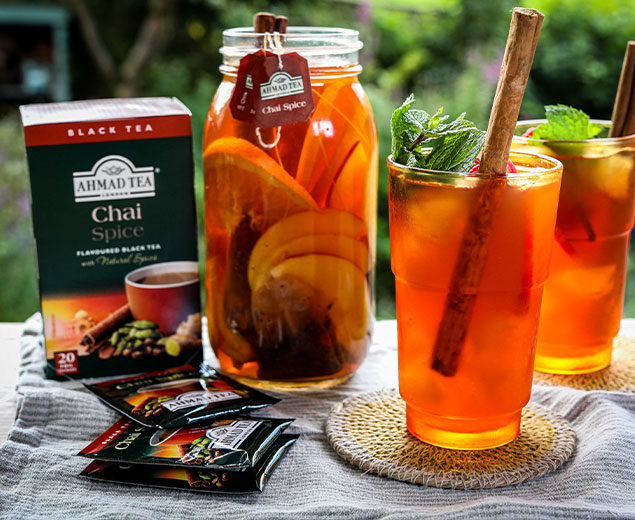 Difficulty
Easy
Time to Make
10 minutes
Blend
Chai Spice
FEATURED TEA
To make our chai tea blend, our Tea Masters start with pure Assam to create a rich and malty base. They transform this into an exotic brew by adding our unique chai spice flavouring. The recipe features natural ginger, cinnamon and clove for warmth, plus star anise, cardamom and pepper to give depth and complexity to the blend.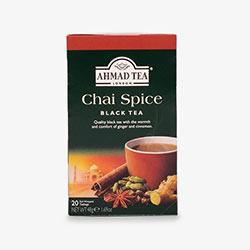 INGREDIENTS
For the Chai Spritz
500ml Boiling water
3 Chai Spice tea bags
1 tbsp cider vinegar
1 tbsp root ginger
½ orange sliced
½ apple sliced
1 cinnamon stick
1 tsp honey [optional]
To serve Tea on the Rocks:
1 bottle of tonic
6 raspberries
2 slices of apple
2 slices of orange
2 cinnamon sticks
Glass of ice
Brew a strong pot of tea with three Chai Spice teabags and 500ml boiling water. To sweeten the mocktail try adding a spoonful of honey to the Chai as it brews.
Allow to cool to room temperature and add in 1 tbsp raw cider vinegar.
Next add in root ginger, sliced orange and apple and leave to infuse. Stir well with a cinnamon stick and chill for 2-3 hours or overnight in the fridge.
Pour the Chai tea infusion over ice and garnish the mocktail with raspberries, a slice or apple and orange and a cinnamon stick. Top up the cocktail with tonic to spritz.
Pairs well with spicy chicken wings!