Gingerbread & Hot Chocolate Cake with Winter Charm
Fifth in our 'Spices of Kitchen' series – try this Dairy Free Gingerbread & Hot Chocolate Cake, by Nila Ross, and enjoy a slice (or two) with our aromatic Winter Charm infusion. Made with Gingerbread Hot Chocolate from Spice Kitchen UK, this recipe makes a deliciously indulgent winter treat.
Gingerbread & Hot Chocolate Cake with Winter Charm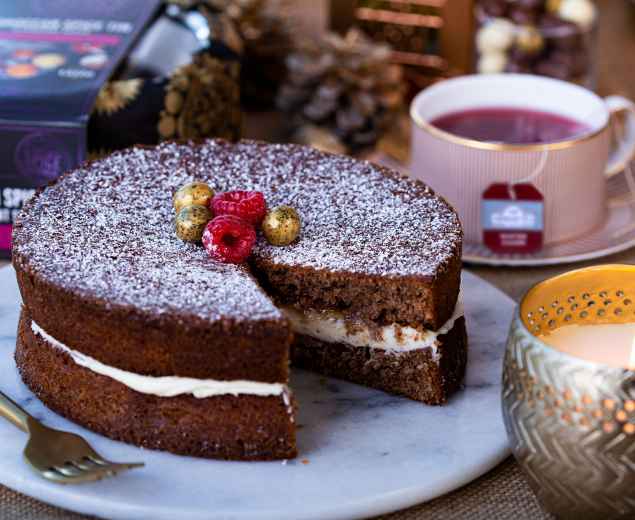 Difficulty
Moderate
Time to Make
2 hours
Blend
Winter Charm
FEATURED TEA
Winter Charm
The aromatic spices and winter fruits, including orange, cloves and cinnamon, pair superbly with the rich chocolate and ginger flavours.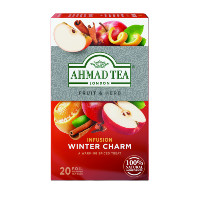 INGREDIENTS
For the sponge:
100g self – raising flour
1 level tsp baking powder
3 eggs – beaten
150g caster sugar
150g vegetable margarine
For the filling:
75g vegetable margarine
75g icing sugar – sieved
1 tsp vanilla extract
A good dollop of Jam
For the dusting
Method
Preheat the oven to 180 degrees C (fan-assisted)/ 200 degrees C (non fan-assisted) or gas mark 6.
Prior to baking, line two 20cm cake tins with baking parchment/cake tin liners, or grease and line the tins with non-stick baking paper.
Place the flour, baking powder, caster sugar and Spice Kitchen UK Gingerbread Hot Chocolate mix in a bowl.
Mix well using a whisk (this helps with the distribution of the ingredients).
Add the beaten eggs and vegetable margarine.
Using either an electric mixer or wooden spoon, beat well until you achieve a soft dropping consistency (like a soft, smooth batter).
Divide the mixture and with the back of a spoon, smooth the surface evenly.
Bake for around 20 minutes – the cake should be springy to the touch.
Leave to cool in the tin for 5 minutes before putting on the cooling rack to cool completely.
Now make the buttercream by beating the vegetable margarine, icing sugar and vanilla extract together.
Assemble cake once the sponge is cool.
Sandwich the two sponges together with the 'buttercream', mix along with a layer of jam.
Using a sieve, dust the icing sugar mix over the cake.
For more spices and ingredients visit spicekitchenuk.com.