Shredded Jerk Chicken Burger with Apple Refresh
A hearty Shredded Jerk Chicken burger packed full of flavours of the Caribbean. This recipe is our fourth in the 'Spices of Christmas' series with Spice Kitchen UK, created by Sanj Singh Parmar. Not your typical food and tea pairing, but we found the sweetness of Apple Refresh tea superbly balanced out the heat from the chillis and spices.
Shredded Jerk Chicken Burger with Apple Refresh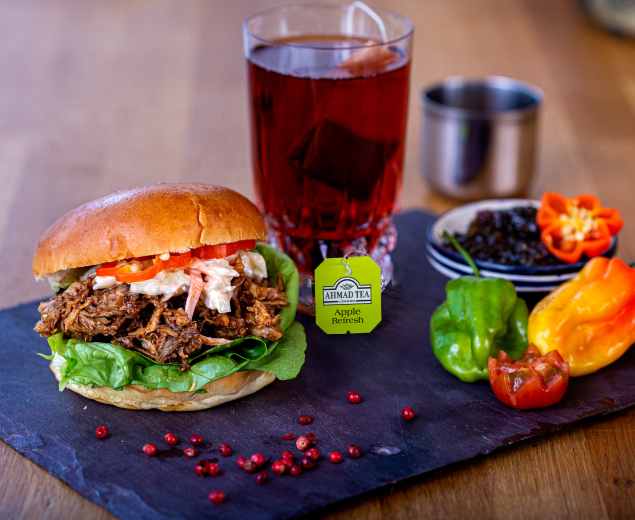 Difficulty
Moderate
Time to Make
1 hour
Blend
Apple Refresh
FEATURED TEA
Apple Refresh Black Tea
Sweet apple flavours balance with the spiciness of the Caribbean flavours.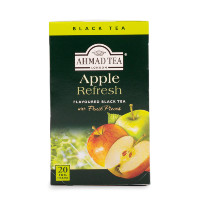 INGREDIENTS
4 bone-in and skin-on chicken thighs
2 tsp Jerk spice mix by Spice Kitchen UK
4 Scotch bonnet chilli peppers
1 Red onion
6 Garlic cloves, peeled
4 Spring onions
3 tbsp Soy Sauce
6 tbsp Apple cider vinegar
2 tbsp Olive oil
3 tbsp Soft brown sugar
Juice from half a lime
1 tsp ground all spice
1 tsp Spice Kitchen cinnamon
1 tbsp dried thyme
Salt & pepper to taste
Scotch bonnet chilli jam
2 Scotch bonnet chillies
2 Red peppers
8 Cherry tomatoes
400g Caster sugar
300 ml Apple cider vinegar
Method
Pat the chicken dry. Using a sharp knife, carefully slash the chicken three times over the skin so the marinade absorbs in to the chicken flesh
Blend all of the marinade ingredients in a food processor.
Add the chicken in to a large bowl and cover with the marinade. Mix the chicken well (avoid using your hands!) and leave to marinade for at least 3 hours, preferably overnight.
Once ready to cook – if you have access to a grill machine, grill the chicken for 4 minutes until the skin is charred.
Finish off cooking in the oven at 180 degrees Celsius for 15 – 17 minutes until cooked. If you do not have access to a free-standing grill machine, place the chicken thighs on to a baking tray and cook in the oven for 15 – 17 minutes. Then, transfer the baking tray under a hot grill for 2 – 3 minutes for a charred effect.
Remove the chicken and place on a chopping board. Using 2 forks, shred the chicken well and mix well in to the released juices and marinade to soak up additional flavour.
Fill brioche buns with lime mayonnaise, shredded chicken, grilled/charred pineapple, a simple slaw made from lime juice, red cabbage, red onion and salt and the chilli jam.
For the chilli jam:
Remove the seeds, stalk and any white membrane from the peppers and chillies and roughly chop.
Add to a food processor and pulse until finely chopped. Heat the sugar and vinegar gently in a pan until the sugar dissolves. Add the pepper mix and boil for 15 – 20 minutes. The mixture should have reduced by 1/3 and will be thick and sticky.
Take the jam off the heat, then pour into a bowl or if you want to keep, add to sterilised jars and leave to cool before adding the lids.
For more spices and ingredients visit spicekitchenuk.com.