Rooibos (or red bush) tea, is made from the leaves of a plant known as Aspalathus linearis which is endemic only to South Africa. It is not a true 'tea' as it doesn't come from the Camelia sinensis plant, but when brewed, it produces an amber coloured, caffeine-free infusion with a refreshing, nutty, full-bodied taste and a sweet aroma.
The Rooibos Plant
The rooibos (pronounced 'roy-boss') plant is grown mostly in the Cederberg and Sandveld areas of the Western Cape and the Bokkeveld area of the Northern Cape in South Africa. It endures very specific and harsh growing conditions – extremely low rainfall, sandy soil with a slightly acidic pH, and temperature fluctuations that can range from zero degrees Celsius in winter months up to forty-five in summer. No irrigation is used on the Rooibos plant and this hardy dry land crop is often subjected to drought conditions. The plan's survival mechanism is its tap root that digs down 3m or more into the well-drained, cool and sandy soil. In early spring the plant blooms with yellow-coloured flowers.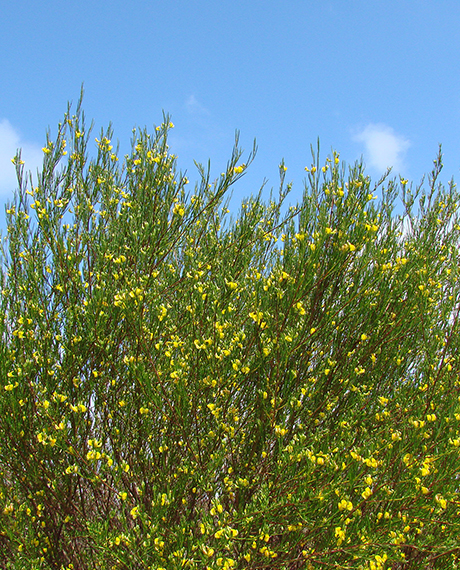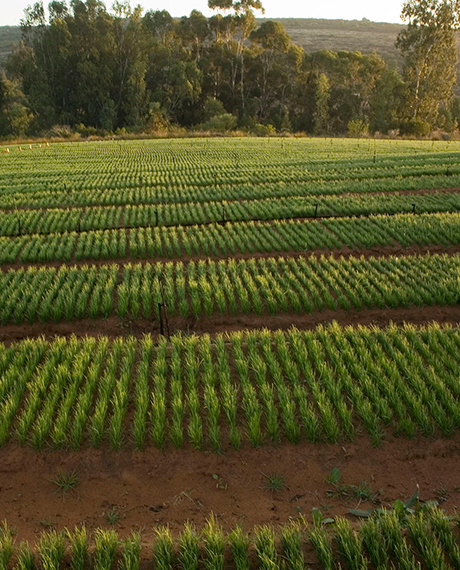 The Rooibos Plantation
The seeds of the Rooibos plant are planted in well-prepared seabeds towards the end of the summer period. In the winter months of June and August the seedlings, which have now grown to a height of 10-20 cm, are transplanted into plantations in neat rows. Rooibos plants take about 18 months to go from seedling to harvest-ready and their average lifespan is six years.
Rooibos at a glance
Rooibos provides income and employment to approximately 8,000 farm labourers in South Africa
Global consumption of Rooibos was 15 million kg in 2015
Rooibos is exported to more than 30 countries.
Rooibos is a dryland crop and production varies according to the amount of rainfall.
The production process
The plant is harvested only once per year, during the summer months, by cutting the branches 30-40 cm above the ground.
The cuttings are neatly bound into bundles and transported to the processing yards.  Upon arriving at the processing plant, the  sheaves are fed into a cutting machine  which cuts the needle–like leaves into even lengths.  The cut Rooibos is then  passed between two rollers which bruise the leaves and trigger the oxidation process.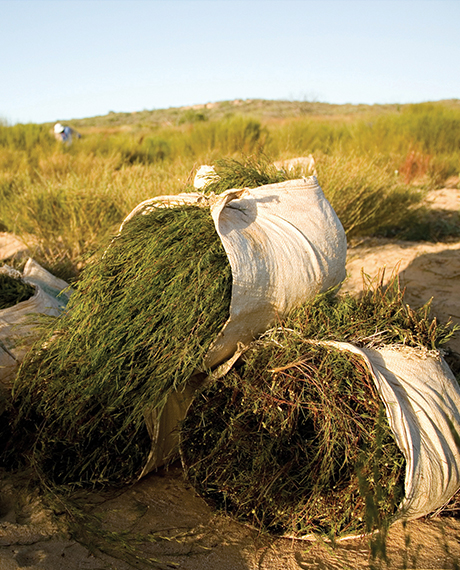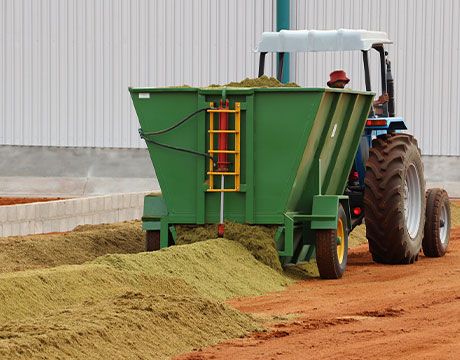 Oxidation, or exposure to oxygen, is what brings out the plant's essential oils and helps the leaves develop their rich colour and flavour. They are then spread out in an open yard and left to dry under the sun. The fermentation and drying process takes 24-48 hours. After drying, the Rooibos is collected from the open yards and taken back to the processing plant for grading.
Rooibos & Cinnamon Infusion
We've created the perfect partnership of soothing South African rooibos and aromatic cinnamon with this herbal blend. It's a wonderfully warming infusion that helps you to both relax and rejuvenate after a hard day.